As the day drew to a close, he did it after all. About six hours after the Nobel Committee had named Svetlana Alexievich the winner of the 2015 Nobel Prize for Literature, Belarusian President Alexander Lukashenko congratulated the author, telling the state news agency Belta that he was "honestly happy" about her success, adding: "I hope very much that her award will serve our state and the people of Belarus."
That was the extent of Lukashenko's recognition. On Belarusian state television, the news from Stockholm was not a headliner but instead a dry news bulletin.
Not a star at home
There's a simple explanation for the reserved stance. For Lukashenko, the prize is an uncomfortable fact. With the 67-year-old Alexievich regularly criticizing the authoritarian head of state, it would be difficult for him to deliver praise. Lukashenko is seeking a fifth term in elections on Sunday (11.10.2015).
The author, a star in western Europe, is hardly so in Belarus, where her books are only rarely printed, and in minimal numbers by small, private publishers. For years, the state-controlled media have ignored the author, who became world famous with her socially critical prose on the Soviet war in Afghanistan and the nuclear reactor catastrophe in Chernobyl.
At a book fair in the capital city of Minsk in February 2014, Alexievich was assigned such a tiny room to introduce her newest work, "Second-Hand Time," that only a few dozen people could be on hand for the occasion.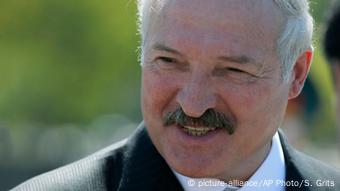 Lukashenko's reaction was cool
Alexievich has received many congratulations by oppositional politicians and activists in Belarus. Author and former presidential candidate Vladimir Neklajev remarked that, for years, she has been a notable figure on the country's literature scene.
Congratulations from the opposition
Another one-time presidential candidate, Alexei Milinkevich, congratulated her in his blog, writing: "This is an honor for all Belarusians who are of honest intentions, for Belarusian literature and the Belarusian nation."
Ales Bialiatski, head of Vesna (Spring), a human rights center, called this a key event in Belarusian literature, going on to say that even though Alexievich writes in Russian, she is a Belarusian author.
"She writes wonderful books about the life of Belarusians in recent decades. She has a stance of moral opposition to Lukashenko and has criticized him for his authoritarianism," said Bialiatski, who served three years in prison and was classified a political prisoner by human rights organizations.
Reactions on the social networks have been mixed. Some are pleased that a woman from Belarus has been the first in that country to win the Nobel Prize for Literature. Others criticize Alexievich for her stance toward the Belarusian language.
In an interview in Germany's "Frankfurter Allgemeine Zeitung" in 2013, she reportedly described it as "provincial and unripe for literature." Alexievich later denied having made the statement and said that she had been misunderstood.