If there ever was a stark manifesto of intent, it came with Svetlana Alexievich's debut novel, War's Unwomanly Face. Released in 1985 and set during World War II, the novel ties together a series of moving and often stark monologues on the brutality and hopelessness of war — all told by women and children. Alexievich made no illusions: She was going to toe no one else's line.
First-hand account of Soviet Union's disintegration
It's her audacious determination to tell such brutally real stories that had Alexievich on the run for a decade.
She was born on May 31, 1948, in the Ukrainian town of Stanyslaviv — now the city of Ivano-Frankivsk, in the country's central-eastern region — to a Ukrainian mother and Belarusian father. Alexievich would first become a teacher (both her parents were teachers), then a reporter in the Belarusian town of Narovl, writing about carp fishing and literature through the 1970s.
However, as the 1980s arrived, the cracks in the Soviet Union became more evident, fanned by nationalistic dissidence, the disastrous Soviet-Afghan war and the cataclysmic Chernobyl disaster. Suddenly Alexievich found herself center-stage, documenting the disintegration of the Soviet Union — and, with it, the only world she knew.
Her investigative journalism would eventually earn her the ire of Belarusian president Alexander Lukashenko — a man believed to harbor a fondness for Adolf Hitler — whose brutal crackdown on dissidence saw countless journalists, opposition politicians and activists imprisoned. Alexievich was forced into exile, including for a time in Berlin.
At a press conference in October in Minsk, the writer, whose books have been translated into 19 languages, said that the Belarusian authorities simply pretend that she doesn't exist. "They don't print my books here. I can't speak anywhere publicly. Belarusian television never invited me," she said.

Alexievich said she was at home ironing when she received the news that she was a Nobel laureate in 2015 — a message that gave her mixed feelings. "On the one hand, it's such a fantastic feeling. But it's also a bit disturbing," she said, adding that it conjured up the names of former Russian winners like Ivan Bunin and Boris Pasternak — who was forbidden by Soviet authorities to collect his prize in 1958.
The inspirations of the Nobel Prize winner
Alexievich credits Belarusian writer Ales Adomovich for informing her style of narrative realism — what's been called the "collective novel" — a style which weaves together a number of narratives, often from first person points of view.
She once said, "Reality has always attracted me like a magnet, it tortured and hypnotized me, I wanted to capture it on paper. So I immediately appropriated this genre of actual human voices and confessions, witness evidences and documents."
It's her unique voice from behind the former Iron Curtain which has brought her such global renown. Her 1989 book, Zinky Boys: Soviet Voices from the Afghanistan War, documented the largely unspoken reality of the Soviet casualties of that war.
Up to 50,000 young men are thought to have lost their lives, plus over one million Afghan civilians. Alexievich's unflinching reportage into the roots of this futile war (and the men who came home in zinc sealed coffins, hence the title) was unwelcome at home, in the dying days of the Uobel NSSR. She was viewed by many as a traitor.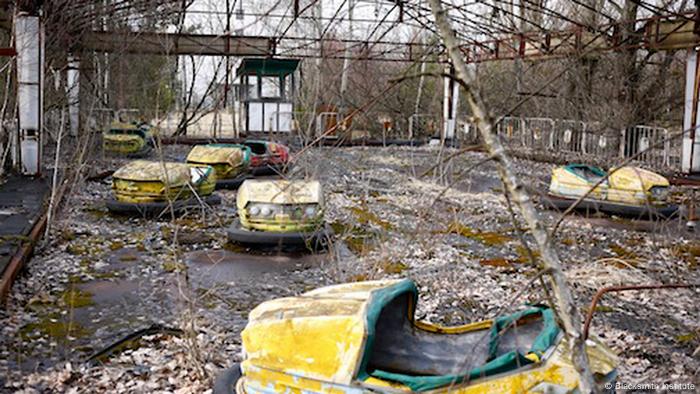 The Chernobyl nuclear disaster was a turning point for Svetlana Alexievich
Alexievich invented a 'new genre'
But it was one of the biggest disasters in human history which would seal her fate. Alexievich was working as a journalist in Minsk when, on April 26, 1986, the Chernobyl nuclear power plant exploded just over the border with Ukraine. Her reports from eyewitness accounts recorded over 10 years would become the work Voices from Chernobyl, released in 2005, and awarded the National Book Critics Award in the US.
In 2013 the author was also awarded the Peace Prize of the German Book Trade, presented at the Frankfurt Book Fair.
"She has invented a new literary genre. She transcends journalistic formats and has pressed ahead with a genre that others have helped create," said then-permanent secretary of the Swedish Academy Sara Danius. The innovative writer has "mapped the soul" of the Soviet and post-Soviet people, she added.
Alexievich is only one of only 14 women to have ever won the Nobel Prize, including Alice Munro in 2013. Asked back then how she'd use the money, totaling $972,000 (860,000 euros), Alexievich replied: "I do only one thing: I buy freedom for myself."
However, the prestigious award led to an exhausting phase in her life. Traveling worldwide and giving several interviews, Alexievich didn't have much time left for her favorite activity: spending time in her dacha in Minsk to write, her agent Galina Dursthoff told German press agency DPA.
According to her agent, the author is now searching for "a new tone" for her next book, which will also deal with a new topic: love.