Saudi authorities have arrested an Egyptian hotel worker who appeared in a video eating breakfast with a female co-worker. Officials have described the scenes as "offensive."
The footage, which sparked outrage on social media in the ultra-conservative kingdom, showed the pair sharing a meal at a desk.
The woman, who is draped head-to-toe in an Islamic niqab, can be seen waving to the camera and feeding the man — who was filming the event — with her hand.
"The labour ministry arrested an expatriate in Jeddah after he appeared in an offensive video," the ministry said in a statement on Sunday.
Local media has identified the man as an Egyptian national.
The ministry said the owner of the hotel had also been summoned for failing to adhere to government regulations that stipulate a gender-segregated workplace.
Arch-conservatives widely criticized the video and the public prosecution urged expats in the kingdom to respect "values and traditions of Saudi society."
Liberalization in the kingdom
The incident comes as Crown Prince Mohammed bin Salman is trying to bring far-reaching liberalization moves to the kingdom. Such moves include ending decades-long bans on women driving and re-opening cinemasand allowing some mixed-gender concerts.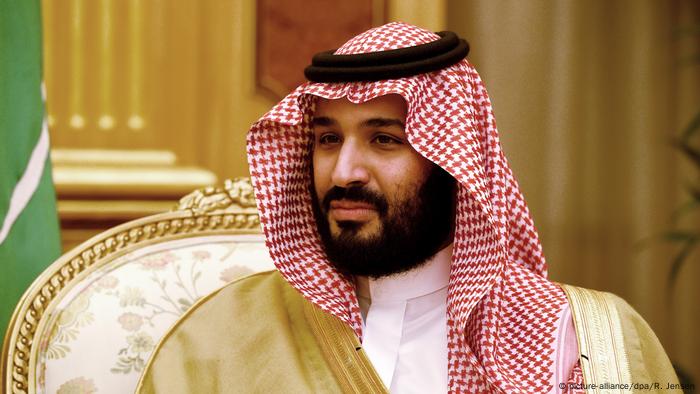 Crown Prince Mohammed bin Salman slowly tries to liberalize Saudi Arabia
The backlash underscores the challenges that the prince faces as he seeks to modernize a country steeped in conservatism.
In April, Saudi sports authorities closed a female fitness center in Riyadh over a contentious promotional video that appeared to show a woman in tight gym clothes.
In June, Saudi Arabia fired the head of its entertainment authority, after a large online backlash against a circus featuring women wearing skintight leotards.
av/rc (Reuters, AFP)
Each evening at 1830 UTC, DW's editors send out a selection of the day's hard news and quality feature journalism. You can sign up to receive it directly here.