France will be the first country to suspend participation in the Schengen Area if no progress is made in curtailing illegal immigration in France, said incumbent President Nicolas Sarkozy in front of cheering supporters at a Sunday campaign rally.
The gathering marked a key event in Sarkozy's presidential campaign, which with six weeks to go before polling day on April 22, has seen the incumbent's rhetoric focus more and more on immigration policy - much like his campaign five years ago, when he launched an anti-immigration drive in the run up to elections.
But Sunday's rally in Paris was the first time Sarkozy threatened action at the European level. Until now, his proposed action had been confined to France, with promises this time around to cut immigration by half during his five-year term.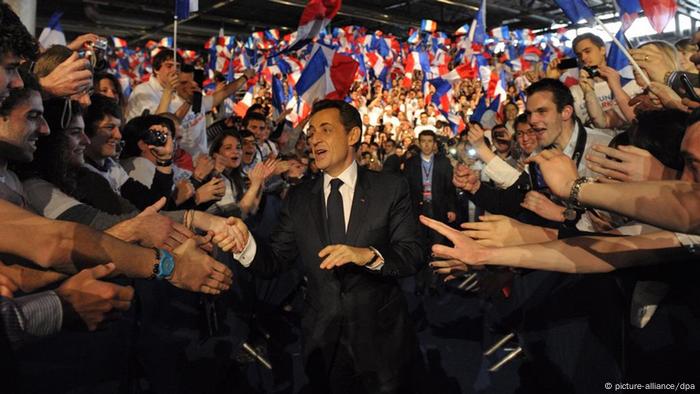 Thousands hailed Sarkozy at the important Paris rally
'Too many foreigners'
"We have too many foreigners on our territory," Sarkozy said during an interview broadcast nationally earlier in the week, in an attempt to explain how his country's immigration system had failed.
"[New arrivals] are not welcome if they're only coming to receive welfare benefits," Sarkozy, head of France's center-right UMP party, said, in a week in which immigration policy seemed to take center stage in the French presidential race.
The team of Socialist candidate Francois Hollande criticized his rival's camp for "sickening comments," reiterating the Socialist pledge to fight for voting rights for immigrants - something vehemently rejected by leading UMP members.
Hollande's campaign speaker also lashed out at Sarkozy for "scapegoating and stigmatizing" in particular Muslims, who account for just under a tenth of the French population. Those comments came after French Interior Minister Claude Gueant said that allowing foreigners to vote would lead to traditional Muslim halal meat being served in school cafeterias.
Campaign strategy
Sarkozy's pledge to narrow France's gate to foreigners is nothing new, however. In the run-up to elections in 2007, he launched an anti-immigration campaign that promised to reduce the number of immigrants drastically - a move widely seen as an attempt to gain sympathy from far-right voters.
The strategy worked. Sarkozy's UMP succeeded in securing a large percentage of votes from Jean-Marie Le Pen's National Front (FN) voter base, but his inability to come through with those drastic promises has cast a shadow of doubt over Sarkozy's promise this time around to reduce the amount of foreigners "by half."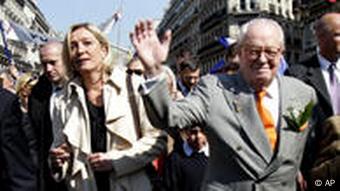 Sarkozy is looking to take votes from Le Pen's daughter this time
"Sarkozy won't be able to pull this off again," political scientist and French far-right expert Jean-Yves Camus said in an interview with DW. "It's just not possible. Our president finds himself in a precarious situation. He hasn't gone far enough to appease the right-wingers he attracted last time around, and he's gone way too far for the voters on the left and even the middle of the spectrum."
Record numbers
Indeed, Sarkozy, despite keeping quiet on immigration until announcing his campaign, has taken unambiguous steps to convince the French people of his hardliner stance during the past few years.
In 2010, this backfired when the French government aroused international condemnation after pushing through large-scale deportations of Roma from camps located around Paris.
Sarkozy and his police force were accused of singling out Roma camps in their tracking of irregular migration - checks that had been called for explicitly by Sarkozy's administration. In response, the French government agreed to adapt its immigration policy to "comply with European laws."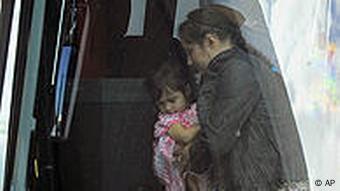 France boasted about its record number of deportations last year
But those changes have yet to come. If anything, French immigration policy has taken an even harder line since, with Interior Minister Gueant even boasting in January that France had deported more "illegal immigrants" in 2011 than ever before.
The divisive minister, who took on the post in April after previously serving as one of Sarkozy's closest aids, told reporters that French authorities had succeeded in deporting some 32,000 people in 2011, "over 4,000 more than in 2010 - the highest level ever attained."
'Dangerous games'
Human rights and anti-racism organizations have criticized Gueant for his policy, in particular for propagating a link between immigrants and crime in France. In his latest public appearance Gueant said openly that immigrants are "two to three times more likely to commit crimes than average French nationals."
Such statements are "scandalous and dangerous things to be saying in the public arena," Aline Kremer, of SOS Racisme, told DW. Kremer has called on Gueant to refrain from using such rhetoric "immediately" because she says it contributes to the process of "stigmatizing" foreigners.
"Even if the numbers [Gueant mentioned] are correct and more immigrants are being arrested than French nationals, it is still very dangerous games to be connecting immigrants with crime. This is a stigmatization of foreigners and makes them the scapegoats of France - truly worthy of nothing other than deportation," she added.
Author: Gabriel Borrud
Editor: Joanna Impey