France has sent its reply to the EU executive on the deportation of ethnic Roma, meeting a midnight deadline in order to avoid legal action over the controversial expulsions.
"We received the French documents, we will analyze them during the weekend," European Commission spokesman Matthew Newman said.
Newman would not give any details of the French reply, but French Immigration Minister Eric Besson had earlier signaled that President Nicolas Sarkozy's government was prepared to adapt the immigration legislation "to comply with European law" and to have it drawn up to be presented to parliament by December.
Earlier Friday, EU Commission spokesman Olivier Bailly told reporters that if Paris missed the deadline, "an infringement procedure would be opened by the end of October."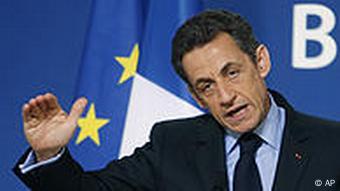 Sarkozy was staunch in his calls for the deportations
The French representative to the Commission, Michel Barnier, said he was confident the EU executive would make "an impartial and objective" evaluation on whether France had done enough to escape EU sanctions.
Roma targets
Under the new legislation, France has repatriated more than 8,000 Roma to Romania and Bulgaria since the beginning of the year.
It justified this by referring to an EU directive from 2004 which stated that EU citizens had the right to remain in a member state longer than three months only if they could show they were working or if they had enough money to provide for themselves and their family.
France also pointed out that many Roma in the country were living in illegally established camps and were without the required health insurance.
However, the policy came under fire from Brussels when it appeared that police had been ordered to target Roma camps as they went about tackling irregular migration.
Unfairly expelled
EU Justice Commissioner Viviane Reding said in September that the policy reminded her of Nazi-era deportations of Jews and Gypsies, a statement that ignited a fierce debate with French officials.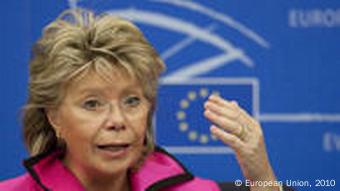 Viviane Reding heavily attacked the French bill
The United Nations and the Roman Catholic Church also spoke out against the law, saying it unfairly singled out Roma migrants for expulsion.
The EU Commission's 27 members are set to debate the issue later this month and are required to reach a unanimous decision on how to proceed.
A negative assessment of French efforts to revise its policy would trigger an EU infringement procedure, which could eventually see France having to defend itself before the European Court of Justice and risk incurring a hefty fine.
Author: Darren Mara, Sarah Harman (Reuters, AFP)
Editor: Martin Kuebler