Narrow streets connected by stone bridges over the river Raska, oriental architecture and a replica of the famous Sebilj in Sarajevo - even though the modern age has left behind the traditional Turkish baggy pants, Novi Pazar still has traces of a small Turkish town, and its residents still have an unhidden fondness for Turkey. This is why many Serbs describe them as some foreign element - a group more loyal to Turkey than their own country.
Novi Pazar is located in southwest Serbia, at the center of the majority-Muslim Sandzak region. It was created by the Ottoman Empire in order to separate Serbia and Montenegro and to connect the Empire with Bosnia's Muslims. Although there is a clear social consensus about the support for Turkey and its President Recep Tayyip Erdogan, locals dismiss Serbian criticism of Turkophilia.
"The Bosniaks from Sandzak see themselves as a facilitator of cooperation between Turkey and Serbia, a bridge which will enable economic relations," Nazim Licina, a member of the Society of Friends of Turkey from Novi Pazar, told DW. He was among organizers of a mass gathering in the city to support Erdogan after the attempted military coup in Turkey.
The people here praise Erdogan not only for his economic achievements, but also for stopping the secularization of Turkey - quietly erasing the heritage of Mustafa Kemal Ataturk and returning to Islam. Perhaps that is why they immediately condemned the coup, but do not speak critically about the government's post-coup crackdown on tens of thousands of citizens.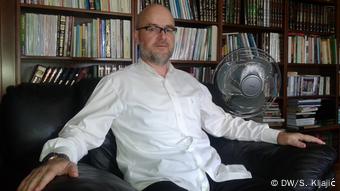 Bekir: Every quick justice has elements of injustice
"Every quick justice has elements of injustice," a former imam, Bekir Makic, told DW. "There probably will not be the wisest steps in all of that, but I do not see it as retribution or revenge."
However, Aida Corovic, a human rights activist and the former director of local NGO "Urban IN," believes that any kind of justification of Erdogan's action is unacceptable.
"It shows how close we are to primitivism and nationalism and it is devastating that there is no consideration behind it," said Corovic, adding it is worrisome there are no young people who would condemn mass detentions and arrests.
Searching for 'the big brother'
The Sandzak people's loyalty to Turkey stems from close historical and cultural relations, but is also a result of Serbia attitude towards Sandzak and Bosniaks as a minority. They blame the government in Belgrade for the lack of infrastructure and investment, and bring up post-war traumas after the violent breakup of Yugoslavia, when they lost their relatives and compatriots in the Srebrenica massacre, as an additional argument for why they seek Turkey as a protector.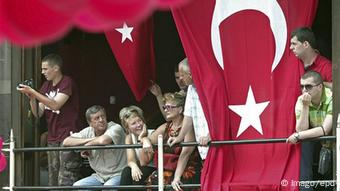 Sandzak is connected to Turkey by a large Bosniak diaspora
"Bosniaks in Sandzak, as well as all post-Yugoslavian nations are looking for a big brother they can rely on. That is strangely reminiscent of what Serbian politics does with Russia," Corovic said. "Considering that they lost their state and do not have a mother country nor a base they can call upon, they seek some kind of help in Turkey. That shows fear, insecurity and a sense of loneliness."
The region is also connected to Turkey by a large diaspora. It is estimated that up to 5 million Bosniaks live in Turkey, most of whom originate from Sandzak. Senad Ganic, professor of law at the State University of Novi Pazar, told DW that immigration started at the beginning of 20th century and reached its peak during the era of communism.
"In the Kingdom of Yugoslavia, Muslims were allowed to live their lives in accordance with Sharia (Islamic law)," he said. "But after the rise of communism, there was a general resistance towards religion which affected the Muslim community the most - from the way they dressed to being denied the possibility to manage their family, legal and marital relations."
EU still pays the most
The diaspora is also important when it comes to issues that stretch beyond the region. People from Novi Pazar are convinced that Turkish investment in Serbia ends up everywhere but in their town and that the local economy survives only because the diaspora sends money. The city's most generous benefactor, however, is the European Union.
The Turkish Cooperation and Coordination Agency (TIKA) in Serbia, founded five years ago, is second. TIKA funds health centers, village school renovations, bridge restorations and the revamp of a local gynecological department. The total value of these projects amounts to almost 4 million euros ($4.3 million).
"There are also other projects, particularly in the area of agriculture," Faruk Suljevic, an assistant to the mayor for international cooperation, told DW. "Our region is ideal for raspberry production. TIKA-procured seedlings were used by our farmers to start production. That kind of help is very important for us, because there are a large number of unemployed people."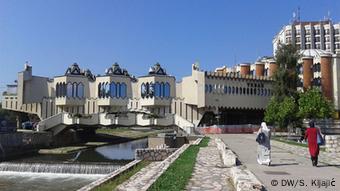 Novi Pazar has seen Turkish investment in infrastructure and agriculture
Suljevic added that the area lacks industrial investment.
"So far, we have not seen any support from the government of Serbia in attracting investors, and not just investors from Turkey," he said. "We don't have big German or Italian companies here either. We have a problem with the lack of roads and airports, but businessmen from Turkey go where it is most favorable for them."
People from Novi Pazar feel trade has remained much the same the 1990s, when their relatives in Turkey helped them to buy goods at lower prices and resell them in Serbia. Today trade in the area consists of importing materials and semi-finished products from Turkey, used by Novi Pazar's textile and shoe producers.
Beyond that, they say, talk of brotherly relations and a privileged position with Turkish investors is a myth. The reality is best described by an old local saying - Love for love, but money for cheese.