Ever heard of Saarlaand? Maybe not. The tiny southwestern German state borders France and Luxembourg and is known for its Francophile slant, its love for wine and food - especially bologna sausages - and its specific dialect. The people of Saarland — Saarländer in German — describe themselves as relaxed and willing to "live and let live."
As of this week, there is a way to communicate the nuances of the Saarland region with almost 400 newly designed emojis.
"We Saarländer are very closely tied to our home and proud of its unique features," communications designer Zymryte Hoxhaj told reporters at the official presentation of the new emoji collection. "It's about time this found its way into digital communication."
'Main thing is, the food was good'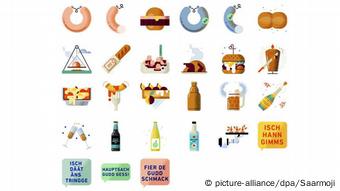 State says the symbols show Saarländer's pride
Hoxhaj had been the first person to float the idea of "Saarmojis" – visual symbols of food, buildings, activities, and sayings specific for Germany's smallest state. The symbols were subsequently designed by artists Olga Günther and Stefan Grenner.
The new emojis are split into 12 categories, including eating and drinking, sport, mood, and sayings. For example, the downloadable app features a dozen variants of Lyoner-Wurst, which is one of several German names for bologna, each of them signifying a different mood. Also, users can send region-specific phrases as such as "Saacre bleu" (a play on the French sacre bleu) or "Hauptsach gudd gess" ("Main thing is the food was good").
While the project's participants claim Saarland is the first state to have its own emoji collection, a similar project was reported in Hamburg as early as 2016.
'Something big always comes from something small'
Four of the Saarmoji categories (tourism, culture, economy and education) are sponsored by state money. German authorities have invested €25,000 ($30,920) in the project and have plans to take it even further. According to the daily Welt, students across the one-million-strong state would be able to attend workshops with the app's developers and create their own, new Saarmojis.
Read more: An overview of Saarland
Saarland's economy minister and deputy premier, Anke Rehlinger, claims that users of Saarmojis would serve as the advertisers for the state.
The visual symbols are "a great testimony to our business culture and creativity," she told reporters.
"Humor is an especially good way to relay messages," she said.
Communications designer Zymryte Hoxhaj hopes that the idea would spread to the other German states, often referred to as "Reisch" (from Reich) by the Saarländer. Why not? After all, the state's marketing slogan is "something big always comes from something small."
Each evening at 1830 UTC, DW's editors send out a selection of the day's hard news and quality feature journalism. You can sign up to receive it directly here.