Twenty years after the genocide that killed 800,000 Tutsis and moderate Hutus, the situation in Rwanda is now seen as largely stable. But that stability has a price: many journalists still can't work freely and critical reporting is often suppressed - even though press freedom and freedom of information are basic rights in Rwanda's constitution.
That is the conclusion that the most recent report by the New York-based NGO Committee to Protect Journalists (CPJ) reaches. The report (published on December 8, 2014) was written by Anton Harber who runs the journalism program for the University of Witwatersrand in Johannesburg and heads the South African Freedom of Expression Institute.
Internalised self-censorship
Harber spoke to over 25 Rwandan journalists, publishers and government representatives for his report. Many critical journalists complained that they were being harassed and their work impeded by public authorities, random police questioning and anonymous threats, Harber told DW.
"All the journalists I spoke to said there's a great deal of self-censorship," he said. "For many, it's an issue of survival. They feel that if they don't self- censor, then they will be harassed, closed down, threatened or driven into exile."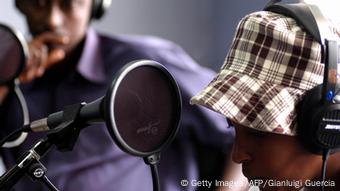 Rwandan journalists have become used to self-censorship
In his report, Harber quotes Fred Muvunyi, chairman of the self-regulatory Rwanda Media Commission: "Self-censorship is flowing like blood in the arteries and veins. There is no [direct] censorship, but there are things that journalists don't do because they are not confident of what will happen."
Journalistic hopes shattered
In the past few years, many people hoped there might be a liberalization in Rwandan journalism. After all, four years ago a critical report by the state authority for media pointed out that journalists were not free to carry out their work unimpeded. According to the government report, the Rwandan government officially stands for a liberal attitude towards free speech, but Rwanda's political culture is repressive when it comes to dissenting opinions. At the time, the report called for a change to this culture.
It was a demand that led to several reforms: The country introduced a duty of disclosure for the government. Journalists were also given an ombudsman to turn to if they are harassed.
Kept in line
Anton Harber thinks these new laws are a positive development. But he bemoans that they haven't led to more critical, investigative journalism in practice and thinks there are several reasons why there has been little change.
"There are financial reasons, the pressures on the media and the lack of enforcement in the media," he said, pointing out that there is also not a long tradition of independent media in Rwanda. "But I think the reason that is most worrying and that can be addressed is the ongoing harassment of journalists."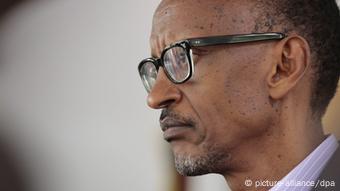 President Paul Kagame claims tough media control is necessary
The reason for the lack of change is that several laws stand in the way of the progressive government rulings. For example, it is illegal to insult security forces, government officials or the head of state. That means that a critical piece about President Paul Kagame's government could theoretically land a journalist in prison.
Tough media laws to foster unity?
Another law makes so-called "divisionism" illegal. The loose term means reporting about topics concerning "ethnic, regional, racial, religious, language or other divisive characteristics" is out of line. The origins of the law lie in the genocide twenty years ago, when the extremist Hutu regime used radio broadcasts to call on the Hutu to wipe out the Tutsi people. Only an intervention by President Paul Kagame's Rwandan Patriotic Front brought the resulting massacre to an end.
Kagame has always said that tight media controls are necessary to retain national unity and prevent renewed ethnically motivated violence.
"I think it's understandable that the government is very concerned with preventing hate speech and preventing any kind of coverage that can allow for hate speech," Harber told DW. "But I think that it would be a healthier democracy if they allowed a more free and open discussion."
Stamping out criticism
Harber thinks that the real reason for the lack of free speech is that the Rwandan government is trying to prevent unwelcome criticism. He points out that the government usually clamps down on opposition groups and locks up opposition leaders before elections. "It's a government that, although it's democratically elected, has shown very little tolerance for opposition or criticism," Harber said.
"Particularly military and security elements of the state continue to threaten and harass journalists," Harber added. He said there were allegations that journalists are taken in for questioning and physically threatened, often anonymously, making it hard to know who is responsible.
The Rwandan government did not respond to the accusations by the Committee to Protect Journalists before the report was published . But CPJ did receive a response from Gerald Mbanda, head of media and communication at the Rwanda Governance Board. He said claims that journalists were subject to censorship or threats from military or security authorities were "false and far-fetched."