Russian human and civil rights activists face continued challenges from the country's "foreign agent" law, which was signed in July 2012, less than three months after Vladimir Putin's presidential comeback.
Requiring politically active organizations that receive funding from overseas to register as "foreign agents," the first incarnation of the legislation formed the basis for a nationwide campaign to inspect, warn and fine NGOs.
When it became apparent that activists were not going to voluntarily label themselves as something they say they are not, the Kremlin amended the law this spring to give the Ministry of Justice the right to register groups as "foreign agents" without their consent.
A matter of days after Putin signed the new bill, the first NGOs were forcibly put on the list. It has since grown, most recently to include five of the country's most outspoken human rights and environmental groups.
Required identification
Speaking at a meeting of Russia's Security Council one day after the latest five "foreign agents" were named, Putin referred to "puppet non-governmental organizations" as an example of what he called "soft force mechanisms" currently being used to weaken the nation.
"We have to give an adequate response to such challenges," he said, citing the importance of working in a "systematic way to resolve the issues that carry a potential risk for the unity of our country and our society."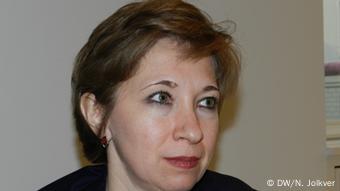 Natalia Taubina of Public Verdict Foundation
The controversial list can be seen as part of that systematic approach. Any NGOs on it are obliged under the terms of the law to mark all materials they publish or distribute with the name of the group and its "foreign agent" status.
Natalia Taubina, director of Public Verdict, an organization which supports victims of human rights abuses committed by Russian law enforcement bodies, and one of those forced by the Ministry of Justice onto the list, says the law puts unreasonable demands on NGOs.
"This is absolutely absurd," Taubina told DW. "We are not a 'foreign agent'; we are working in the interests of the Russian people, providing legal assistance to victims of human rights abuses."
Fines versus humiliation
Not including the "foreign agent" status on groups' publications can bring fines of up to 10,000 euros ($13,390). That represents a crippling amount for groups whose resources are generally tight.
However, Pavel Chikov, head of the interregional human rights group AGORA, says the term is so humiliating that to use it would be a form of self-punishment.
"In Russian, 'foreign agent' is synonymous with spy," he told DW, adding that understanding the term's implications means recalling its use when thousands were convicted of spying for foreign governments during the Stalin era. "The idea was that there were foreign spies everywhere, and Putin's espionage campaign is similar."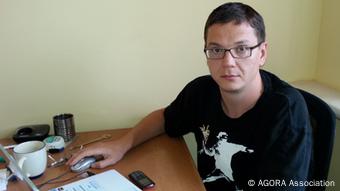 Pavel Chikov of AGORA Association says he will be more restricted in the work he can now do
Drawing a second parallel to the past, Chikov says the Russian president is trying to establish a Soviet-style "iron wall," behind which there is no place for outspoken critics of the ruling hand. "The main target is to make groups like ours loyal to the Kremlin, or to make them disappear."
Relations with the West
Although the crackdown comes at a time of strained relations between Moscow and the West, and it would be easy to think in terms of a correlation, the general sentiment among activists in Russia seems to be that this is a matter of asserting greater internal rather than international control.
If there is anything to the timing, Tanya Lokshina, Human Rights Watch Russia Program Director says she believes it is a matter of Moscow seizing a moment.
"I think this is about Russia trying to silence its most vocal critics at a time when its international partners are focused on Ukraine - especially after the MH17 plane crash - and are not scrutinizing domestic developments as closely as they used to," she said.
Several of the rights groups branded "foreign agents" have already lodged a joint complaint with the European Court of Human Rights, but even if there were to be a ruling in their favor, achieving it would require time, resources and effort.
Funding control
By the same token, Lokshina says organizations that have been branded as foreign agents face automatic distrust from the public. "They will not be able to do advocacy in their analysis, and their strategic recommendations will not be taken into account." That also raises the question of whether they will continue receiving funding in the future.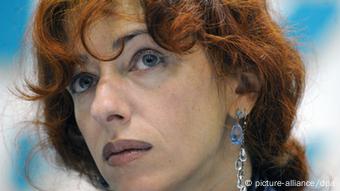 Tanya Lokshina of Human Rights Watch
Having funding dry up, Taubina says, would be in the interest of the Kremlin. She says her group receives financial support from the EU, UN, US, Britain, Norway and her native Russia, and adds that she believes a policy of multi-source funding is a key to remaining independent.
"Our position is not to have more than 30 percent of our budget from any one source," Taubina stressed. "But the government wants NGOs to be exclusively financed by Russia, because they can't control those that receive foreign money."