Aman Tuleyev, the governor of Russia's Kemerovo region, resigned on Sunday over a huge fire at a shopping mall in which at least 64 people died. At least 41 of them were children.
In a video address released by his office, Aman Tuleyev said he could no longer remain in office with "such a heavy burden," saying his resignation was the only possible moral course.
The disaster has been blamed on criminal negligence, with several safety rules violated. Among other things, officials said fire exits were illegally blocked, the fire alarm system was out of order and children had been locked inside cinemas.
Tuleyev, 73, who has governed the coal-mining region in western Siberia for more than 20 years, himself came under criticism for not visiting the site of the disaster in the first few days and for failing to meet with relatives of victims.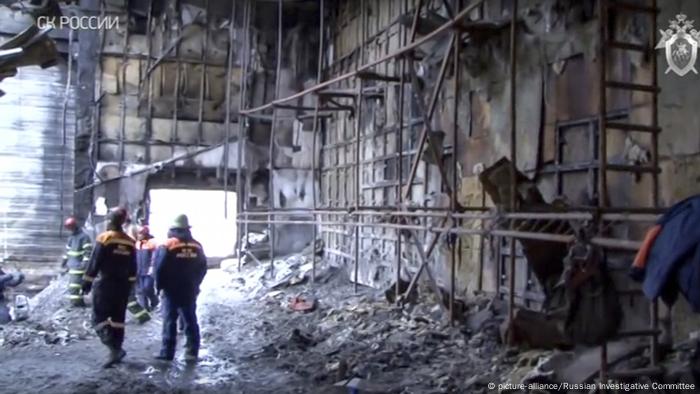 The fire broke out on an upper floor of the building
'Nobody will be shielded'
President Vladimir Putin had initially refused to dismiss Tuleyev, despite widespread public anger in Kemerovo and across Russia.
Top representatives of the ruling "United Russia" party also publicly praised Tuleyev following his resignation on Sunday.
"I want to note many positive changes that Tuleyev brought about in the social and economic life of the Kemerovo region," said head of the "United Russia" parliamentary group Sergei Neverov. The lawmaker, who also serves as deputy speaker of the Russian parliament, said that Tuleyev transformed the Siberian region after taking office in 1997.
Tuleyev's deputy and most likely successor Sergei Civilev has been named acting governor.
Addressing the public on Sunday, Civilev pledged to do "everything to make sure that those responsible for this horrible tragedy are severely punished."
"Nobody will be shielded or hidden," he said.
Arrests made
The fire, which swept through a cinema complex and a children's play area in the Winter Cherry mall in the city of Kemerovo last Sunday, was one of the deadliest since the Soviet Union broke up in 1991.
The owner of the shopping mall and the regional chief building inspector have been detained and could face years in prison, investigators said on Friday.
The head of the company responsible for the building's fire alarm system, an employee of the same company and a security guard were also taken into custody.
tj,dj/rc (dpa, AFP, Reuters, Interfax)
Each evening at 1830 UTC, DW's editors send out a selection of the day's hard news and quality feature journalism. You can sign up to receive it directly here.