Washington is reportedly lukewarm about a Moscow proposal issued last week that Russia and US-led coalition stage joint air strikes on Syrian rebels, including militant Islamist group Nusra Front.
The content of the talks, held by phone on Monday, were not disclosed.
Bomb blasts on Monday morning killed 148 people and wounded at least 200 in Jableh and Tartous on Syria's Mediterranean coast, Assad's coastal heartland, and a government-controlled territory hosting Russian military bases.
UK-based Syrian Observatory for Human Rights reported that the attacks were undertaken by at least five suicide bombers and two devices planted in cars.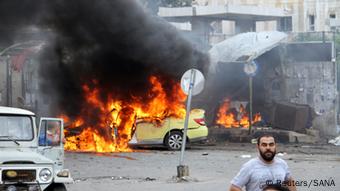 Tartus in flames
The attacks were the first of their kind in Tartous, capital of Tartous province, and home to a Russian naval facility, and in Jableh in Latakia province, near a Russian-operated air base.
Syrian state television said that one of the bombers in Jableh was apparently helping the wounded when he blew himself up.
Stoking sectarian conflict
The coastal region is firmly under government control and hosts hundreds of thousands of people fleeing the conflict inland. Both cities have so far up escaped the worst of the violence in the five-year conflict.
Many locals in the region belong to President Bashar al-Assad's Alawite religious minority, while most of the displaced people are Sunni Muslims from areas where government forces have been clashing with mainly Sunni rebels and jihadists.
So-called "Islamic State" (IS) claimed responsibility for the attacks, adding that it had targeted members of the Alawite minority.
Never waste a good crisis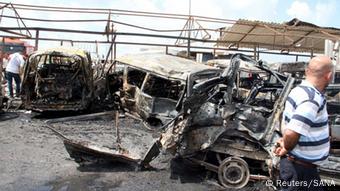 Tartus
The Kremlin said the bomb blasts added to the case to press ahead with Geneva peace talks after the collapse of a February 27 ceasefire in April.
"This demonstrates yet again just how fragile the situation in Syria is. And this one more time underscores the need for new urgent steps to continue the negotiating process," Kremlin spokesman Dmitry Peskov told a conference call with journalists.
Russian President Vladimir Putin reiterated his readiness to fight with the Syrian government against "the terrorist threat" and sent his condolences to Assad, the Kremlin said.
Government forces and their allies have recently stepped up bombardment of areas in Aleppo province in the north, which has become a focal point for the escalating violence.
jbh/rc (Reuters, dpa)