The new German champions got the season off to a terrible start when they were beaten 3-0 at home to Nuremberg on the first game of the season on August 12.
It took until week two of the Bundesliga to pick up their first win when they poached a 3-2 win at Arminia Bielefeld as Brazilian striker Cacau netted two second-half goals.
But a 3-1 home defeat by Borussia Dortmund followed at the end of August and left Stuttgart hovering just above the relegation zone.
However, an impressive 3-2 win at Werder Bremen on September 16 turned their fortunes around.
Having gone 2-0 down, Stuttgart fought back with 21-year-old striker Mario Gomez hitting the winning goal three minutes from time.
Draws against Eintracht Frankfurt and Hertha Berlin were followed by a 3-0 hammering of Bayer Leverkusen on October 14 which lifted them up the table to eighth.
Unexpected title-contenders
But Stuttgart only really got in amongst the title-contenders when they made German soccer sit up and take notice with a 3-0 win over Schalke 04 at the end of October as Sami Khedira hit goals either side of half-time.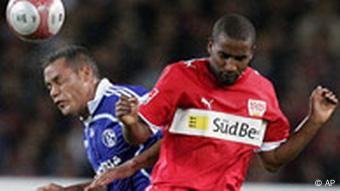 Stuttgart attracted attention in October with a 3-0 win over Schalke
Another goal bonanza followed the following week against Alemannia Aachen with a 4-2 win which took the side to second in the table as Marco Streller hit two late goals.
Comfortable victories over Hamburg and Hanover followed which put them in top-spot at the end of November, only for Bayern Munich to burst the bubble when they beat Stuttgart 2-1 at the Allianz Arena on November 18.
The defeat dropped Stuttgart to third and allowed Schalke and Werder Bremen to leap-frog them. They dropped further down the table to fourth at the Christmas break.
In January, a 3-2 win over Bielefeld at the end of January put them third and Stuttgart stayed in touch with Schalke and Bremen through out February.
A 1-0 win over Dortmund gave them some revenge for their opening day defeat and they closed the gap between themselves and Bremen in second with a 4-1 win at home to Werder on February 10.
Trying times
They moved into second with a 4-0 win at Eintracht Frankfurt on February 16, but March began badly as Armin Veh's men slipped back to third again when they were 2-0 down at half-time at Bayer Leverkusen and lost 3-1.
Although they still managed to pick up a point, Stuttgart lost influential 21-year-old striker Mario Gomez on March 10 when he picked up a knee injury which kept him out for the next two months.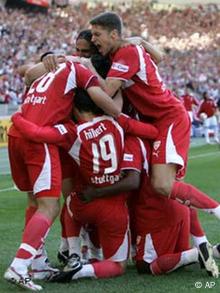 All wrapped up on Saturday
A 1-0 defeat at Schalke on March 17 left Stuttgart in third, but seven points off the victors who stayed top and with eight games left, their title challenge looked to be fading.
But a 3-1 win at Aachen, on the same day Schalke were well-beaten 2-0 at Bayern Munich, narrowed the gap to just four points.
Then at the start of April, a 4-2 win over Hamburg kept them in touch as Schalke and second-placed Bremen both won.
Cacau saved the day
Three-points came in the win over Hamburg, but Cacau was to prove the star of the day on April 21 when he netted twice in as many minutes to give Stuttart a 2-0 win over Bayern Munich which all but guaranteed them a Champions League place.
And the door to the top of the table was flung open in style on week 31 when Schalke lost 2-1 at Bochum on the Friday, Stuttgart beat relegated Borussia Moechengladbach on the Saturday while Bremen were shocked 3-2 at Bielefeld.

The results put Stuttgart second and just a point behind leaders Schalke.
Then on May 12, their 3-2 win at Bochum, as Schalke were well-beaten 2-0 at Dortmund and Bremen were beaten by Eintracht Frankfurt, put Stuttgart back on top again by two points with a game left to go.
And their home win over Cottbus on Saturday had the home fans partying long into the night.