Residents of Rome awoke on Monday to find the city transformed into a winter wonderland after its heaviest snowfall in six years.
The Italian capital usually experiences mild winters thanks to its Mediterranean climate. But an Arctic storm passing over much of Europe dumped enough snow to shut down schools and severely disrupt public transport.
Read more: Record snowfall hits Moscow, downing thousands of trees
Italy's civil protection agency announced it had decided to dispatch the army to clear snow-clogged streets, adding that volunteers would be sent to help commuters stranded at train stations.
One runway was open at Rome's main Fiumicino Airport, while its second hub at Ciampino was closed overnight due to the snow. Ryanair said it had canceled all flights to and from the airport.
Read more: Several deaths reported as cold weather grips Europe
A number of major tourist sites were also shut, including the Colosseum, the Roman Forum and the Palatine Hill.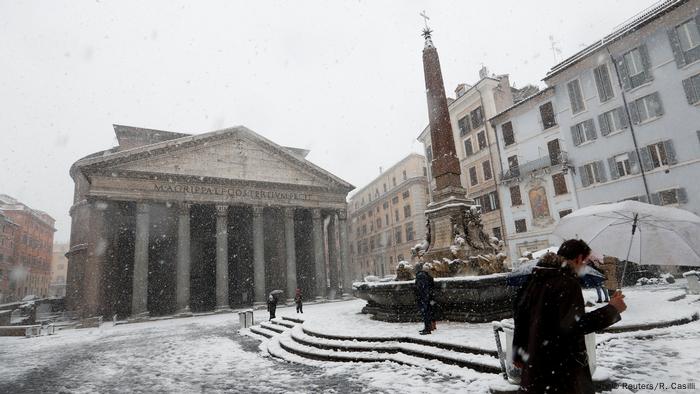 People walk past the Pantheon in downtown Rome during a snowstorm
Many Romans came out to enjoy the unusual conditions, taking photographs of snow-dusted streets, staging snowball fights and sledding down slopes.
About 3-4 centimeters (1.2-1.6 inches) of snow settled in Rome overnight. Although it's not much, the dusting was the city's first real snowfall since February 2012. No more snow is forecast, but temperatures are expected to hover around zero degrees Celsius (32 degrees Fahrenheit) until Wednesday.
Read more: Freak weather conditions in holiday regions
The storm also brought snow to several other cities in central and northern Italy, causing school closures and severe disruptions to public transport.
Each evening at 1830 UTC, DW's editors send out a selection of the day's hard news and quality feature journalism. You can sign up to receive it directly here.
nm/kms (AP, Reuters, AFP, dpa)