Romania's Foreign Minister Teodor Melescanu resigned on Tuesday after less than a week in office. His decision to step down came in the wake of accusations that the government purposely botched expatriate voting during Sunday's run-off presidential election in an attempt to tip the scales in favor of Social Democrat Victor Ponta, the current prime minister. The diaspora, which is concentrated in Italy and Spain, tends to vote conservative.
"Not all Romanians abroad could exercise their right to vote and someone must be accountable for that. I will file my resignation at the government meeting today," Melescanu told local television on Tuesday. His predecessor, Titus Corlatea, resigned eight days before after similar accusations were made over the first round of voting on November 2.
Hundreds of potential voters were turned away when polling stations across Europe closed on Sunday, with police in Turin and Paris being forced to teargas to disperse the angry crowds. Some had been waiting since the early hours of the morning. Voters in Munich waved toothbrushes at camera crews to show how long they were willing to wait.
Nearly 380,000 expatriate Romanians turned out to vote on Sunday, more than double the amount of the first round. Perhaps galvanized by the perceived endeavor at silencing them, voters gave Klaus Iohannis, the conservative candidate, a surprise victory over Victor Ponta, whom he had trailed by ten points after the first vote two weeks earlier.
Toppling the status quo
German Chancellor Angela Merkel extended her congratulations to Iohannis, one of Romania's approximately 40,000 ethnic Germans, on Tuesday. "I am convinced that together we can deepen our relationship even further," she wrote.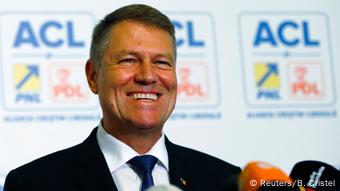 Klaus Iohannis is popular amongst young, educated Romanians, surprising for a conservative candidate
Iohannis' supporters hope he will be able to attract more business and investment from Europe's largest economy, as he has in the city of Sibiu in Transylvania, where he was elected mayor four times in a row. In his campaign, he promised to tackle corruption and boost Romania's image abroad.
For his part, Iohannis made it clear on Tuesday that he party intends to be the major powerhouse in Romanian politics in the years to come. According to Reuters new agency, he indicated that his party, the National Liberal Party (PNL), will try to topple Ponta's Social Democrats (PSD).
"We, the Liberal Party, want to take over power. This will happen in 2015, or at the 2016 parliamentary election at the latest," Iohannis told reporters after a party meeting. "Now, there is an urgent need for the 2015 budget because ...Romanians need to know what is going on."
Although the PSD and its coalition partners control a very comfortable 60% of parliament, Ponta himself regularly butted heads with outgoing president Traian Basescu, which often crippled attempts at policymaking.
es/bw (AP, dpa, Reuters)