"Yes, we can!" was not a call he made to his voters. Rather, Klaus Iohannis' campaign slogans lauded a "Romania of thoroughness"and a "Romania of things well done." These sentiments carried the liberal-conservative to Sunday's run-off election for the highest office in the land.
In the first round of voting on November 2, front-runner Victor Ponta lead Iohannis by almost ten percentage points.
In truth, the popular mayor from Transylvania ought to be called Johannis, with a J. Some Romanian functionary was obviously not familiar with the name when he filled out the birth certificate 55 years ago. And so it officially became Iohannis, a more Romanian-looking spelling for the candidate from the country's German minority.
Successful municipal leader
Iohannis' political rise can be attributed to the good reputation that's followed him for years. As mayor of Sibiu, he has already been reelected four times, each time with a comfortable majority of 70 to 80 percent. The former physics teacher is valued for how he fundamentally reformed and renovated the partially dilapidated medieval city. In 2007, Sibiu was recognized as one of the best examples of European integration: the year of Romania's ascension to the European Union, "his" city was chosen - along with Luxembourg - as European Capital of Culture.
The region is also booming economically. Hundreds of foreign investors, mainly from Germany and Austria, have settled there and helped to ensure that unemployment has trended towards zero. To compare: The overall unemployment rate in Romania, according to Eurostat, comes in at just over seven percent.
A self-assured go-getter
After his remarkable success in local politics, the Evangelical Lutheran and Transylvania Saxon now seeks to convince a nationwide majority that he is the right man to lead the political, moral, and economic regeneration of Romania.
"I am running because I wish to establish a new kind of politics on our country. Less show, less noise, and more concrete solutions for citizens, for Romania," Iohannis repeats convincingly in his interviews and at public events. Neither special interest groups nor media empires stand behind him, he stresses, drawing an allusion to his Social Democratic (PSD) opponent Ponta.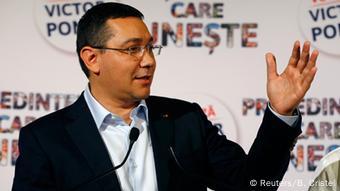 Iohannis's rival Victor Ponta seeks to become the youngest president in Romanian history
But a central question remains, a question Iohannis himself cannot answer. Is Romania ready for a politician who belongs to both ethnic and religious minorities? Today, only 40,000 ethnic Germans live in Romania - in a country of nearly 20 million. They are considered hardworking, trustworthy, honest and upright. Many Romanians appreciate these virtues, especially in the center and west of the country, where the ethnic Germans - also called the Transylvania Saxons and Banat Swabians - reside. This was seen in the first round of elections on November 2, when Iohannis emerged as the winner in these regions. But in the south and east of the nation, voters were clearly in favor of Ponta.
The Iohannis fairytale makes this round of competition all the stronger. People speak of the Iohannis-effect - just like they spoke of an Obama-effect in the US in 2008.
"People are tired of the established politicians," Iohannis told an interviewer of his achievements in Sibiu . Whether the self-confident "go-getter" can score at the national level will be seen on Sunday.