Official results from Sunday's voting showed that Victor Ponta, the Social Democratic prime minister, took just over 40 percent with nearly every last vote counted. However, the race proved tighter than expected, with his main rival, Klaus Iohannis, the 55-year-old leader of the right-wing National-Liberal party and the mayor of the Transylvanian city of Sibiu, on 30.5 percent. The second round will take place on November 16.
"I am delighted that so many Romanians have voiced confidence in my program, which aims at developing Romania and ending discord," the 42-year-old Ponta said.
The 42-year-old Ponta has pledged to reduce taxes and raise pensions while also stressing the need to maintain good relations with both the European Union and China. He also recently announced an increase of 10 percent in wages in the medical sector, further boosting his popularity.
Iohannis, of Transylvania's German-speaking minority, says he will guarantee an independent justice system and the rule of law. Opinion polls ahead of the election had predicted that, aside from Iohannis, none of the dozen other candidates had enough support to provide Ponta with serious competition in the race to replace the departing independent president, Traian Basescu, termed out after 10 years.
Romanians abroad complained that they had been denied the chance to vote at polling stations by long lines.
'Black Tuesday'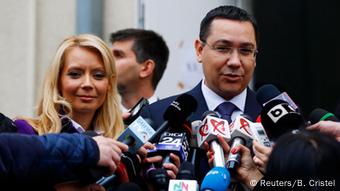 Romania's controversial prime minister is the second-round favorite
The EU has closely monitored the election over fears that Ponta could reverse corruption reforms in one of the eastern bloc's poorest countries. Throughout the election campaign, Ponta also focused largely on the issue of corruption, despite facing accusations himself that he had put pressure on prosecutors investigating his political allies on suspicion of corruption. Ponta's critics have also expressed fears that if he wins the election, he could use the post of president, which is otherwise largely ceremonial, to influence the appointment of prosecutors, thus giving him power over the judiciary.
Although Ponta has vowed to keep the justice system independent, his frequent accusations of bias against the prosecution authority known as DNA have stirred trouble. On "Black Tuesday" in December 2013, Ponta's government passed a series of new laws granting immunity to elected officials. A month later, the Constitutional Court blocked the changes, but Ponta's critics have called the episode a wake-up call.
In light of the country's persistent problems with corruption and organized crime, the EU has been tightly monitoring Romania's judicial system since it joined the EU in 2007.
mkg/ksb (Reuters, AFP, dpa, AP)