Romania, currently Europe's poorest country according to the International Monetary Fund (IMF), plans to join the eurozone. That, at least, is the wish of the country's elite.
"Ordinary people don't really care whether or not Romania introduces the euro – they have other concerns," said Peter Janku from the Romanian editorial team at Deutsche Welle. The euro, he added, is a pet project of the country's elite "who already have plenty of money and are looking for new opportunities to do more business."
Adopting the common European currency has also become a priority for some Romanian politicians. President Traian Basescu, a member of the right-of-center PDL party, has repeatedly underscored his commitment to the euro. The move, he said in an interview with the German newspaper Frankfurter Allgemeine Zeitung, would be "a huge benefit for everyone."
Consolidation through tough austerity measures
Basescu expects Romania, with its 20 million inhabitants, to balance its budget by 2013. This, he said, will happen because the Romanians, while unhappy about the austerity measures, understand the need for change."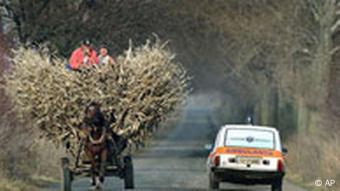 Romania is the poorest nation in the European Union
The measures include closing 70 hospitals, cutting civil servants' wages by 25 percent, axing 185,000 jobs in the public sector and reducing social benefits by 15 percent.
These measures, however, are only partly the result of Romania's plan to join the eurozone, according to Jürgen Matthes from the Cologne Institute of Economic Research. "Because of the global financial and economic crisis, Romania confronted a budget and currency crisis, prompting the IMF to lend a helping hand."
The IMF provided nearly 13 billion euros in stand-by credit in addition to 5 billion euros in emergency funds from the European Commission and 2 billion euros in aid from other international organizations.
Even if, right now, it may seem completely absurd for another country to join the eurozone, economist Matthes said he understands why Bucharest may keep pushing. "We have seen in countries like Romania, and other eastern European countries that have their own currency, that crises have emerged when capital suddenly flees the country and the local currency is massively devalued," he said, adding that eurozone member countries could help support Romania's domestic market by investing in it.
The euro as protection against speculators
Janku added a further aspect: "Romania's entire banking system has become unstable due to Greece. Numerous Greek banks have investments in Romania, while many Romanian banks hold Greek state bonds.
This is a real concern, analysts admit. And this is what gives Basescu hope. "It is not about the Maastricht criteria. It's about economic competitiveness," he said in the interview.
Under Basescu, Romania successfully lowered inflation to 3.3 percent this year from 4.6 percent in 2010, and expects to reduce it to below 3 percent in 2012.
There has been positive news about the country's efforts to reduce its national debt as well. Last year saw Bucharest accumulate new debt equivalent to 6.5 percent of the budget. This year, however, new debt was limited to 4.4 percent, with 1.9 percent targeted for 2012. "In 2013, we aim to achieve a balanced budget," Basescu said.
Good figures as a condition for joining the eurozone
The introduction of the euro would represent yet another step that Romania has taken since 1989 in its long march to approach the West. The country has been a member of NATO since 2004 and the European Union since 2007.
Corruption, however, remains one of the biggest obstacles to economic growth – and one of the reasons why many ordinary people in Romania aren't bothered with the euro. If politicians can't successfully control corruption, they ask, how can they be trusted to introduce a new currency?
Author: Tobias Oelmaier / jrb
Editor: Sam Edmonds