Romania and Bulgaria are not ready to join the EU's borderless Schengen area, according to the interior ministers of Germany and France.
A spokesman for German Interior Minister Thomas de Maiziere said that he and his French counterpart, Brice Hortefeux, had warned the European Commission that Bulgaria and Romania did not yet meet the requirements for entering the visa-free travel zone.
In a letter to the European home affairs commissioner, Cecilia Malmstroem, the two ministers said it was "premature" to let the countries join Schengen in March 2011.
The two ministers criticized the lack of progress by the two southeastern EU countries in reforming their judiciary as well as tackling corruption and organized crime.
Allowing a country to join the Schengen zone must be agreed unanimously by all member states, so France and Germany have veto power over the applications.
EU interior ministers had been planning to meet in late March to discuss the two cases, based on a European Commission report, which is expected in February.
'Act of discrimination'
The Schengen area allows 400 million citizens to travel through 22 of the EU's 27 nations, plus Iceland, Switzerland and Norway, without a passport.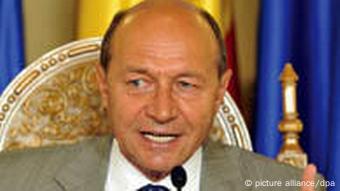 Romanian President Basescu says it is 'discrimination'
Romanian President Traian Basescu reacted by saying that the Frenco-German move was "an act of discrimination." He asked for swift clarification of the issue with Berlin and Paris, as well as "at the level of the European Union."
Meanwhile Bulgarian officials said they would "do their utmost" to remove any doubts about their readiness to join.
"From a technical point of view, Bulgaria will be ready in March," said Foreign Ministry spokeswoman Vessela Tcherneva.
Romania and Bulgaria both joined the European Union in 2007. Two EU countries, the United Kingdom and Ireland, have chosen not to join the Schengen area.
Author: Catherine Bolsover (AFP, AP)
Editor: Chuck Penfold