Romania's road death rate rose to 98 per million inhabitants in 2017, just ahead of Bulgaria with 96 per million. No other European Union state recorded a rate higher than 80 per million inhabitants, according to the EC figures released on Tuesday.
Last year, 25,300 people were killed on roads in the European Union, and 135,000 were seriously injured, according to the EC data.
"Beside the victims, road fatalities and injuries also affect the society as a whole, with an estimated socio-economic cost of €120 billion ($148 billion) a year," the Commission reported. "All this calls for fresh efforts from all actors to make European roads safer."
Germany reported 3,177 road deaths last year. At 38 deaths per million inhabitants it was the lowest since 1953.
Statistically, the safest member states were Sweden and Britain, with fewer than 30 road deaths per million inhabitants in 2017.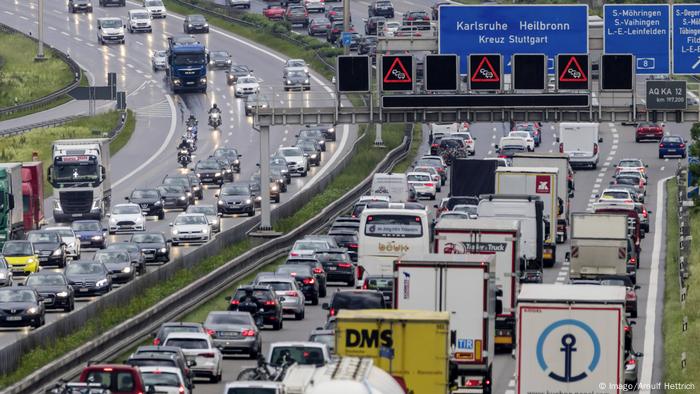 Traffic jam on a German motorway
New EU-wide proposals
The EU's long-term campaign saw a drop from 54,000 road deaths in 2001 to 31,500 deaths in 2010.
Although safety measures are still largely set at national and local levels, the European Commission plans next month to table new proposals.
Bulc said Tuesday these would include a push to improve road infrastructure, targeted investments at known accident black spots and new technologies to reduce driver error.
Proposals made by the European Transport Safety Council (ETCS) include the Intelligent Speed Assistance (ISA), a driver assistance system, and devices that block motor ignition when drink-driving offenders are intoxicated.
The ETCS estimates that up to a quarter of the deaths on European roads each year are alcohol-related.
In February 2017, the EU ordered France, Britain and Germany to tighten controls on car pollution or risk legal penalties. It said "persistently high" levels of nitrogen dioxide caused 70,000 premature deaths in Europe in 2013, three times the number of deaths by road traffic accidents in the same year.
ipj/jm (dpa, AFP)
Each evening at 1830 UTC, DW's editors send out a selection of the day's hard news and quality feature journalism. You can sign up to receive it directly here.