It was an unexpected development: After being held for two years at the Mending Air Base, the legendary German music festival Rock am Ring is returning to its initial location, the Nürburgring, a motor sports complex in the town of Nürburg.
"Ever-expanding agency requirements concerning the protection of environment, flora, fauna and water" at the site in Mendig would have necessitated "further millions in investments without a long-term guarantee of approval" of the festival, organizer Marek Lieberberg and entertainment company Live Nation explained on Monday.
The management at the Nürburgring race track, in contrast, had sought to bring the festival back "to credible and mutually acceptable conditions," added the organizers, thus enabling the rock festival to "concentrate on its core task."
Rock am Ring was located at the storied racetrack near the village of Nürburg in the Eifel Mountains of western Germany from 1985 until 2014. Drawing tens of thousands of visitors yearly, it has seen performances by Joe Cocker, David Bowie, Udo Lindenberg, Bryan Adams, Bob Dylan, Elton John, Bon Jovi, Guns N'Roses, Rammstein, Die Toten Hosen and other star acts.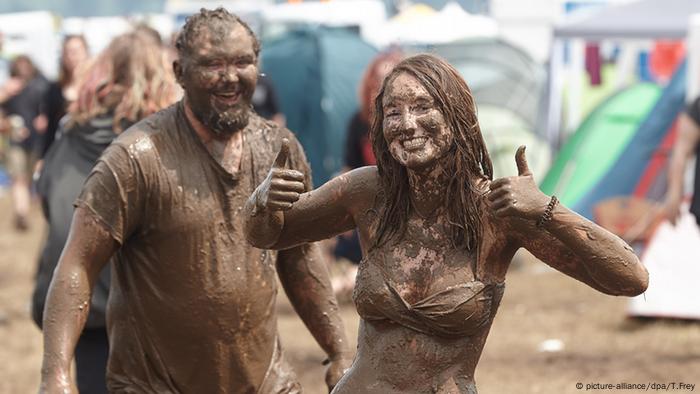 Mud-slinging of the fun kind at the 2016 festival in Mendig
The festival had two luckless years in in Mendig, 35 kilometers (21 miles) to the east of Nürburgring. After two festival days in 2016 it was called off due to severe weather and after lightning strikes had injured dozens of attendees.
40,000 three-day tickets have been sold for the next edition of the rock extravaganza thus far, scheduled from June 2-4, 2017. These will remain valid after the festival returns to its popular old site.
German hard rockers Rammstein headline the event. Also scheduled are Die Toten Hosen, System Of A Down, the Beatsteaks, Five Finger Death Punch, Alter Bridge, Genetikk, Thrice, Suicide Silence, Frank Carter & The Rattlesnakes and Slaves.