Annegret Kramp-Karrenbauer's injuries were slight, her spokeswoman Anne Funke said in Saarbrücken, where since 2012 the 55-year-old state premier has led two successive regional coalition governments made up of her Christian Democrats (CDU) and the Social Democrats (SPD).
That regional coalition in the small German state bordering France could be a precursor for the Berlin exploratory talks — due to peak on Thursday — on whether the same "grand coalition" of Germany's largest parties will lead the country for another four years.
Kramp-Karrenbauer had on Wednesday evening returned to the state capital Saarbrücken to host her regional coalition government's New Year's reception for 1,800 invited guests.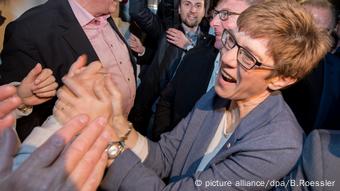 Kramp-Karrenbauer has led two Saarland coalitions
The senior CDU politician and lead negotiator on family and youth affairs at the Berlin exploratory talks is frequently sought by the media, also as a guest at televised talk shows.
Premier's car runs into truck
Potsdam police said Kramp-Karrenbauer's official car ran into a truck at 4:30 a.m., local time Thursday, on the A10 Autobahn [motorway/highway] near the Potsdam interchange, about 100 kilometers (60 miles) outside Berlin — as the premier was returning to the federal capital for the exploratory talks.
The car's occupants had nearly completed their 700-kilometer journey from Saarbrücken to Berlin, reportedly because no overnight flights were available.
Kramp-Karrenbauer tweeted later Thursday that she hoped to leave hospital on Friday, adding that "given the circumstances, all's OK with my colleagues and me."
"Hope to leave the hospital tomorrow, staying one night for observation," Kramp-Karrenbauer wrote.
Senders of good recovery messages included fellow Saarland resident and federal caretaker Justice Minister Heiko Maas of the rival SPD.
Fourth place in future leadership stakes
An Infratest institute survey of 1,012 eligible voters published on Thursday by the business daily Handelsblatt ranked Kramp-Karrenbauer in fourth place — on 24 percent approval among those polled — among possible CDU leadership successors to Merkel, who has led Germany since 2005 and the CDU since 2000.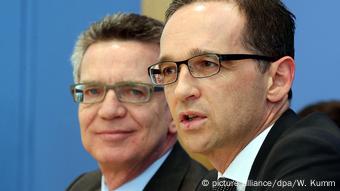 The SPD's Maas (R) with de Maizière of the CDU
The same survey — echoing findings since December — found that 56 percent of respondents believed that Merkel would quit early in the next parliamentary term, should she be re-elected chancellor by the Bundestag.
Infratest respondents tipped Interior Minister Thomas de Maiziere at 37 percent as Merkel's most likely successor, followed by her chancellery office chief, Peter Altmaier, on 31 percent.
In third place was Defense Minister Ursula von der Leyen on 28 percent.
ipj/msh (dpa, Reuters)