The Bangkok South Criminal Court on Tuesday found Andy Hall of the Migrant Worker Rights Network guilty of defaming Natural Fruit, which also supplies fruity drinks to the European Union.
Hall's lawyer Nakhon Chomphuchat said the activist was "found guilty of defamation under the computer crime act."
The court initially sentenced Hall to four years in prison, but reduced the sentence by one year because of Hall's "history of doing public good and his record as a rights defender," the ruling judge said. The sentence would be suspended, meaning Hall would be free to move around unless he broke the law during that period. He will also have to pay a fine of 150,000 baht ($4,300 or 3,850 euros).
The activist said he would appeal the verdict.
The judge said that Hall had used a small sample size in the interviews for his report and that an investigation by state auditors did not find widespread abuses at the Natural Fruit Company. According to the verdict, Hall also did not give enough time for the company to respond before submitting the report to Finland-based rights watchdog, Finnwatch.
In a statement following the verdict, Britain's Foreign Office said: "The UK supports the right of human rights defenders to raise concerns about human rights violations without fear of reprisals or legal action to prevent public participation." The officials said they would raise Hall's case with Thai officials.
Finwatch expresses shock
Speaking to the Associated Press news agency, the Finnish watchdog's Executive Director Sonja Vartiala said Finwatch was "shocked by today's verdict."
"The report was authored and published by Finnwatch; we take full responsibility for it…Andy has been made a scapegoat in order to stifle other voices that speak out legitimately in support of migrant worker rights," Vartiala said.
Finnwatch said that it was able to speak to Hall and that he was "in relatively good spirits" despite the sentence. He was also expected to travel to Finland on Thursday for talks with Finnish companies and the media.
The contentious 2013 report, called "Cheap has a high price," claimed that Thailand's food industry mistreated its predominantly migrant labor force.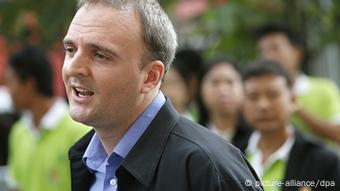 Hall will appeal against Tuesday's verdict
Natural Fruit denied the allegations and has launched a civil case demanding $10 million in damages. The company has accused hall of "violating his rights," with the company's Wirat Piyapornpaiboon saying, "No foreigner should think they have power over Thai sovereignty."
"The verdict against Andy Hall sends a chilling effect to the human rights community in Thailand," Sunai Phasuk from Human Rights Watch told Reuters news agency.
mg/msh (Reuters, AP)