In this staging, "The Mastersingers of Nuremberg" is about one man, Richard Wagner, who Barrie Kosky represents with trademark satin vest and beret - multiple times. Little Wagners in satin vests, wearing berets, and even the character Hans Sachs is decked out in Wagner look - as is Walther von Stolzing too. And the character Eva is Cosima Wagner. This seems to be about more than Wagner's megalomania, it's about his solipsism.
As the plot goes, medieval Nuremberg is ruled by tradesmen, and the route to success is mastering the art of songwriting. The winner of the upcoming song contest is promised a lovely reward, Eva. She, however, has her eyes on an outsider with slim chances: Walther doesn't have a clue about the songwriter's craft. Another contestant does, however: Beckmesser. After many twists and turns in the five-hour opera, the good guy, Walther gets the girl, while the bad guy, Beckmesser, is publicly humiliated and ostracized. Happy ending.
It's no coincidence that in this production Beckmesser wears a long, white beard and appears at once scheming, pedantic and trembling, while Walther is blond, virile and genuine. Wagner never makes an overt reference to Jewishness or Jewry in the work, but it doesn't matter; his character Beckmesser has generally been seen as a stereotypical Jew - as seen by a 19th century German. By taking it straight on, director Barrie Kosky both defuses the stereotype and shows us where it can lead.
Visual leitmotif: dark wooden paneling
The entire first act is set in Wagner's paneled living room in Wahnfried, his manor house in Bayreuth. Amusing at first, the effect of overly happy-go-lucky actors in medieval dress and in constant motion in close confines grows annoying. By the end of the act, with the pent-up energy almost unendurable, the chamber is pulled to the back of the stage. What remains is another, more vast wood-paneled interior: the court room of the Nuremberg War Crimes trials.
Nuremberg stands for that too. And for Adolf Hitlers Reichsparteitage, for which Wagner's "Mastersingers" provided the soundtrack.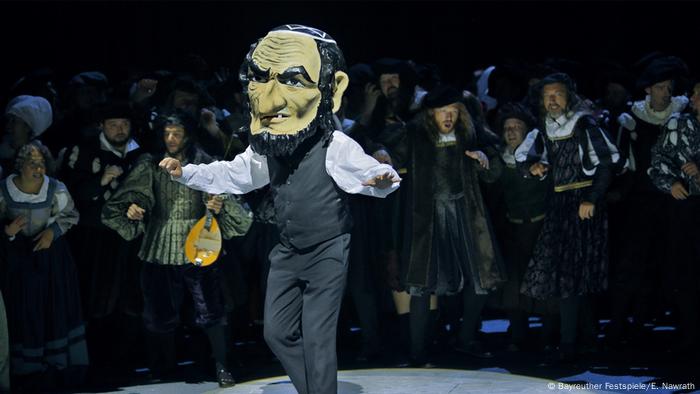 Beckmesser, portrayed by Johannes Martin Kränzle, is forced to don a Wagner mask
"You have to be really, really honest about what actually happened here during the Third Reich," Kosky explained to DW. And he is - and in a way never before seen on Wagner's Festspielhaus stage.
The court chamber in Nuremberg is the setting for the entire third act, while Act Two is set in Wahnfried, but with a grassy floor. It's here that Beckmesser's singing provokes a public riot, after which he is brutally beaten behind a portrait of Richard Wagner. A huge, inflatable and frighteningly diabolical visage of the composer leers at the audience, then collapses to seemingly smother the character. On its head: a skull cap with a Star of David.
Should any doubts remain, Kosky offered an explanation: "I believe that Wagner created his own hell. He's permanently in the witness box, having to justify what he did say and what happened to his music. That's the position Wagner is in, and I am not sure if he can get out of it."
It's the Nuremberg Trials all over again - but this time, Richard Wagner is on trial. So is Kosky making Wagner resposibile for the horror of Nazism? The director leaves enough wiggle room here; one can, but need not necessarily see it that way. Kosky loves to confound expectations, so take nothing at face value, is the conclusion this reviewer draws.
This interpretation does demonstrate that Wagner's sole comedy is about more than just another song contest. It's about a society that requires an enemy as an escape valve in order to maintain social cohesion, about defining common ground through rejecting the "other."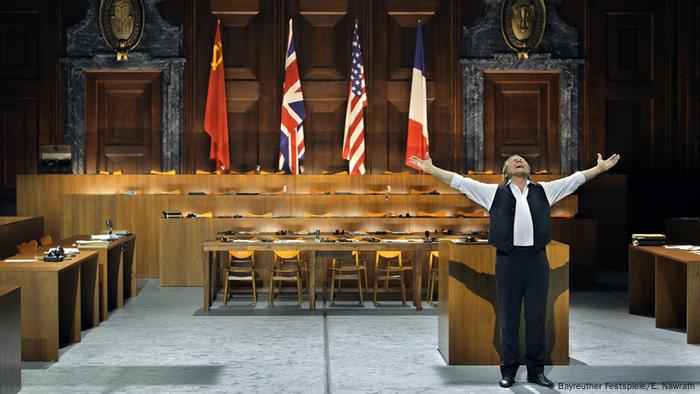 A solitary Richard Wagner - manifested by his character Hans Sachs, portrayed here by Michael Volle - in the iconic setting of the Nuremberg War Crimes Trials
Superb technique
With a breathtakingly precise coordination of stage action and music - and comic moments provoking audience laughter, one can easily believe statements by the conductor and cast that much fun was had in the months of rehearsing this most elaborate and multi-casted single opera by Wagner. Swiss conductor Philippe Jordan kept a matter-of-fact and often delicate tone throughout, avoiding the surging pathos one often hears.
After the curtain fell, the audience released its energy in tumultuous ovations for all protagonists, with a few intersperced boos for Anne Schwanewilms in the role of Eva, for director Barrie Kosky and for conductor Philippe Jordan - the latter perhaps from Wagner lovers who wanted a bit more oomph in their favorite passages. Impeccable intonation and text articulation were the hallmarks of both Klaus Florian Vogt as Walther von Stolzing - and most of all for Michael Volle as Hans Sachs. The murderous role - the baritone sings literally for hours - has never been rendered more convincingly and understandably. At least not within memory here in Bayreuth.