On a sunny September afternoon, Irmtraut Streit is revisiting the scene of one of the momentous experiences of her life. "We didn't know for sure if he was coming," she says as she gazes around the Marienkirche (St. Mary's Church) in the Mitte district of Berlin. "It hadn't been announced anywhere, but we all showed up just in case."
The daughter of a Baptist minister, she was 21 at the time and just married. "In Communist East Germany, we'd stand in line at a store without even knowing what we were queuing for, just because there was talk of something special available. We'd learnt to be very 'let's just wait and see' about things."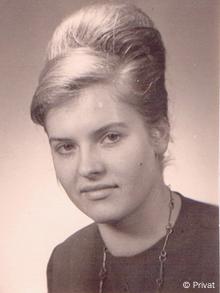 To 21-year-old Irmtraut Streit, Martin Luther King stood for peaceful revolution
The talk that day in late summer, 1964, was of an impending appearance by none other than the world-famous pastor and social activist Martin Luther King. The word on the street was that he would be crossing Checkpoint Charlie that evening to give a sermon in East Berlin. From listening to banned West Berlin radio stations like RIAS and SFB, many already knew that he was visiting the "free" part of the city.
Invited by its charismatic mayor Willy Brandt, that morning he had spoken to a rapt audience of 20,000 at the Waldbühne and visited the neighborhood of Kreuzberg to look at the bullet holes in a house front where East German border guards only hours earlier had shot and wounded a young man called Michael Meyer, who was attempting to flee. But a trip across the Wall was on no official agenda, either in West or East Berlin.
American Express will do nicely, thank you
Somehow, however, the news trickled through. "No one had a telephone, but the rumor spread like wildfire," says Irmtraut Streit. By twilight, thousands had gathered expectantly at the church on Karl-Liebknecht-Straße, among them a young Joachim Gauck, today's President and the nephew of Gerhard Schmitt, who had recently been appointed general superintendent of the East Berlin church.
To the younger generation in particular, Martin Luther King was a hero. "My friends and I heard that he was going to speak in Mitte and we knew we had to be there," recalls Hans-Joachim Kolpin, then a 15-year-old schoolboy. "We'd listened to his 'I have a dream' speech on the radio the previous year, and we loved everything to do with America, from chewing gum and Elvis Presley to 'Bonanza'. We couldn't believe that someone so prominent was actually bothering to come and talk to us! The Wall had been built three years before, leaving us effectively imprisoned. We felt forgotten by the world, insignificant. No one ever showed any interest in us - but the great Martin Luther King was coming to East Berlin! We couldn't believe it."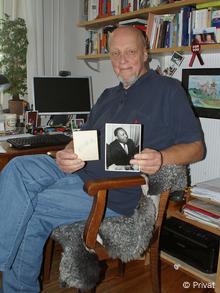 Martin Luther King's autograph (on the left) is one of Hans Joachim Kolpin's most treasured possessions
King was one of the key figures of the era, having playing a pivotal role in persuading the US Congress to pass the Civil Rights Act only months earlier. On the international stage, Cold War tension was rife. The State Department was none too keen on the activist's plans to leave the American sector on the same day of the Michael Meyer incident, going so far as to confiscate his passport. Undeterred, he managed to cross the border anyway, recognized by border officials who accepted his American Express card as valid ID.
The East German authorities might not have formally sanctioned his visit, which had been initiated by Heinrich Grüber, provost at the Marienkirche, but they did nothing to impede it.
"King was opposed to the Vietnam War, he was an advocate for unions and workers' rights," points out Streit. "The Americans didn't want him going off to talk to 'the Communists', but for its part, the Party didn't mind at all."
"East Germany had nothing against anyone who showed the US in a bad light," says Kolpin. "So we knew all about the March on Washington and racial segregation. King was seen very positively."
But he had the rare distinction of appealing both to the communist leadership and to people critical of the system. "He stood for revolutionary change but believed in nonviolent resistance," remembers Streit. "He knew how to galvanize people, and that made him a role model to us."
A confidence boost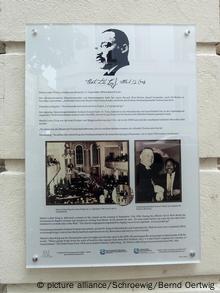 A plaque commeomorates Martin Luther King's visit to East Berlin
Yet the church was unprepared for the crowds who turned out to hear him speak that evening, and a second appearance in the nearby Sophienkirche was hastily arranged.
Here too, there was standing room only, but what he actually said barely registered. Referring briefly to the "symbol of the divisions of men on the face of the earth" and stating that "here on either side of the wall are God's children, and no man-made barrier can obliterate that fact," his sermon concentrated mainly on the "great social revolution taking place in the United States of America," and, according to Kolpin, was most probably barely understood by his audience.
"I had a good view of him in the pulpit from where I was sitting and there was no mistaking his passion," he says. "I can remember the sound of his voice to this day. But although what he said was obviously rousing, none of us spoke English and his interpreter's delivery was so flat and expressionless that you stopped listening after a while."
King was inspirational nonetheless. People flocked around him as he made his way out of the church, eager to shake his hand or get an autograph. Hans Joachim Kolpin was one of the lucky ones, leaving with a signed napkin he would treasure for decades to come.
To him, King's visit was powerful evidence that the lines of communication to the West weren't entirely severed. "It was an uplifting experience," he says. "That night, the big wide world paid us attention. He made us feel better about ourselves."
A year earlier, President Kennedy's legendary "Ich bin ein Berliner" speech reassured the people of West Berlin that America would stand shoulder to shoulder with them. Although largely forgotten by the history books, Martin Luther King's 1964 stopover in East Berlin gave hope to the half of the city that perhaps needed it even more.
Looking back, Irmtraut Streit traces the roots of the peaceful uprising of 1989 to that balmy fall evening. "It still amazes me that not a drop of blood was shed," she says. "The overthrow of East Germany was a revolution very much in the spirit of Martin Luther King."