The video uploaded to a conservative Catholic website Wednesday appears to show Vincent Lambert in his hospital bed half opening his eyes to the sound of his mother's voice.
The Frenchman, aged in his late 30s, was left a quadriplegic in a vegetative state following a motorbike accident in 2008. Since then, a drawn-out legal battle over whether he should be taken off life support has torn the Lambert family apart, and sparked a nationwide debate in France about the right to die.
In a ruling on Friday, the European Court of Human Rights in Strasbourg backed a previous decision by France's top court that taking Lambert off intravenous food and water would not contravene his rights.
'Attack on his dignity'
Lambert's wife Rachel and six of his eight siblings, following doctors' recommendations, have fought to pull his life support in line with a 2005 passive euthanasia law, arguing that he would not have wanted to be kept alive in such a state. But Lambert's devout Catholic parents, his two sisters and his half-brother, say that he is just handicapped and requires continued medical support.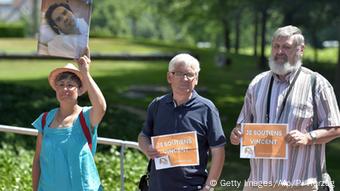 People hold placards reading 'I show support to Vincent' outside the European court in Strasbourg
A family lawyer told AFP the video was evidence Lambert was not a "person in a vegetative state with no interaction with anything." The footage shows Lambert's eyes flickering during contact with his half-brother, and as his mother tells him, "We are all on your side, we support you," through a phone held to his ear.
The family wanted the video to "immortalise this moment ... to show who Vincent really is," lawyer Jean Paillot said.
Lambert's former doctor, Eric Kariger, said the responses in the video didn't prove Lambert was reacting consciously. "These patients in a vegetative state react to their environments but it is a vegetative response," he said.
"This video is an attack on his dignity and his right to privacy - it's manipulative and plays on people's emotions."

Lambert's wife, Rachel, said the video didn't show anything new, and that the "state of Vincent's health had not improved in years."
Debate across Europe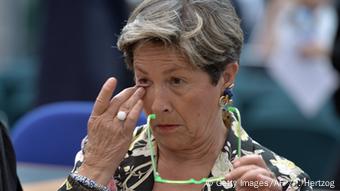 Lambert's mother Viviane has vowed to fight to keep her son alive
The right to die is a hotly contested issue in Europe, where Belgium and the Netherlands are the only two countries to have enshrined unfettered access to dying assistance in law.

In neighboring Germany, politicians in the lower house of parliament, or Bundestag, on Tuesday introduced two rival draft bills aimed at expanding assisted suicide for patients with no hope of recovery. It's currently illegal for a doctor in Germany to prescribe and administer a lethal dosage, although it is allowed in some cases. A patient must be able to take the drug without any physical assistance - effectively excluding anyone paralyzed or in a vegetative state.

Germany's Bundestag aims to pass new legislation on assisted suicide by November this year.
nm/msh (AFP, KNA)