"By 2020, half of the newcomers to Germany will have found a job," Detlef Scheele, the head of the German Federal Employment Agency, said when asked about the future integration of refugees into the workforce.
Figures from the German Institute for Employment Research show that of the refugees that came to Germany in 2013, 33.3 percent of them had found work as of last year (2016). Of those who came to Germany in 2015, only 10 percent have found employment.
Lucky ...
Saber Yahya from Egypt is one of the lucky ones to have got a job. Saber arrived in Germany in 2015 and now works in an American-style restaurant called "Touch Down" in the western city of Bergisch Gladbach. Although he initially came to the restaurant to obtain vocational training and gain some professional experience, Saber managed to prove his worth. This prompted the owner of the restaurant, Jamal, to offer him a full-time work contract.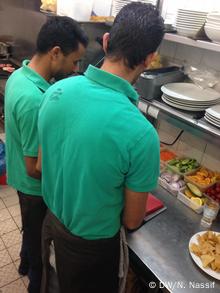 Saber has been lucky to find work
"Although Saber didn't have any work experience, he managed to become proficient in German in a short amount of time. He really loved the work in the kitchen and showed commitment, which pushed me to hold onto him and offer him a contract," Jamal told InfoMigrants.
Despite Jamal's insistence on a contract with Saber, it was not so easy. "The Labor Office refused to let me work full-time and they wanted to cut my work hours by half," Saber said.
... and not so lucky
On the other hand, Manal, a 53-year-old female refugee from Egypt, has been unable to find work since arriving in Germany in 2012. Manal participated in German language courses, and then in training courses that help refugees to contact the labor market and find a job opportunity, but without success.
"I work in the dietary and nutrition field, but finding a job in that area was impossible here. There are no vacancies, and perhaps I haven't become proficient enough in the German language," she says.
But Manal did not give up and insisted on attending vocational training courses in geriatric care.
"Besides my training courses in the classroom, I have to do vocational training for six months to find a job in this area," Manal said. She hopes that once she finds work, she will no longer need monthly aid from the German government.
But lack of professional experience and German skills are not the only things hindering the entry of refugees into the job markets.
Michael, 26, from Egypt managed to become proficient in German in a short amount of time and found professional training in a company that delivers packages and mail to homes. After the training period, the owner of the company asked Michael to work for him, but on a condition that Michael found "very unfair": The owner did not want to pay Michael a fixed monthly salary, but instead to give him 50 cents for every package he delivered.
"This is not even enough to pay for my health insurance," Michael told InfoMigrants.
Germany has programs in place to help migrants access the labor market
German bureaucracy plays a big role
According to a study done by the Institute for Employment Research, 40 percent of refugees surveyed were able to enter the labor market with the help of their relatives or friends, while 32 percent found employment through the German Federal Employment Agency. Ten percent of refugees found job opportunities through advertising and the internet, while 17 percent used other methods.
Another owner of a restaurant in Bergisch Gladbach, who didn't want his name to be mentioned, told InfoMigrants that the German bureaucracy was one of the biggest challenges facing newcomers, preventing them from integrating into the labor market.
"Every refugee who wants to work has to get a job description form, which is issued by the Labor Office. The restaurant management must fill it out and then it has to be sent back to the Labor Office to be approved again," he said. "This requires a waiting period of four to eight weeks. The long wait then results in the employer hiring other people who did not require this approval. This, of course, has a negative impact on refugees who want to work."
Patience is important
Another problem the owner of the restaurant pointed out is that the Labor Office provided employment benefits. "Those on benefits are given first priority by the Labor Office to help find them work," he said.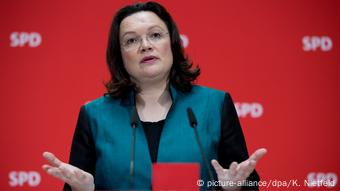 Nahles: Newcomers need patience
Although there could be more obstacles that prevent refugees from entering the labor market, German Labor Minister Andrea Nahles told the German talk show WDRforyou that refugees needed to be patient. Germany was in dire need of specialized labor, she said.
She praised the newcomers' desire to work in Germany and find success but noted that the difficulties they face at first might be due to their lack of understanding of the German labor market. She also stressed that Germany had allocated a budget to create job opportunities for refugees, and advised them to enroll in courses for vocational training and follow-up learning.
InfoMigrants - All Rights Reserved
InfoMigrants is not responsible for the content of external websites.
SourceInfoMigrants2017