As Jordan grows, the country is in need of more water. The population and economy are on the up, and that means households, industry and agriculture are all beginning to grow thirsty.
But the country's groundwater reserves are expected to hold out for just three more centuries.
If less rainfall, climate changes or droughts cause the reserves to dwindle faster, the situation could get dire, said hydrogeologist Dr. Stefan Geyer from the Center for Environmental Research in Halle.
"Let's say it rains 20 percent less one year, then that means around 50 percent less new groundwater forms," Geyer said. "And if it rains 40 percent less than usual, then no groundwater at all will form."
Water recycling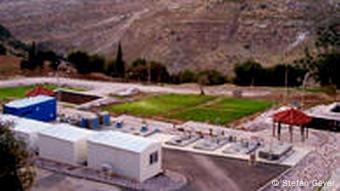 Facilities like this one in Fuheis purify and recycle waste water
That's where Project SMART comes in. It's an acronym for Sustainable Management of Available Water Resources with innovative Technologies and is a cooperation among NGOs and two German universities. Germany's federal research and education office has so far lent seven million euros ($9.5 million) in support to SMART.
One fundamental task for the project is reprocessing water that has already been used. Currently, less than a tenth of the water in Jordan is being recycled. Most used water is drained into cesspools, which leads to problems, said Dr. Roland Müller, head of the Center for Environmental Biotechnology in Leipzig.
"These cesspools are often leaky and contaminate the groundwater," Müller said.
"A much better solution is a technology that lets us use waste water productively - by cleaning it, ridding it of pathogens and making it available for use in agriculture," he added.
Lofty goals
Team members of SMART hope to double the amount of recycled water used in Jordan. They have already had success in the small, northwestern town of Fuheis. There, processing stations have been installed that quickly deliver filtered water for use in parks or olive groves.
If the water is purified more thoroughly, it's also possible to use it for vegetable gardening or to supplement groundwater sources.
According to Roland Müller, part of the project also lies in showing local politicians, students and residents how water recycling works so that they can take over the process themselves.
"In the second phase of the project, we'll try to carry over our results into model villages and regions," Müller said. "But the moment of truth comes in the third phase, when we'll try to implement it all on a large scale, and that will have to take place in cooperation with many other partners."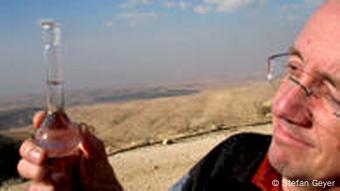 Dr. Stefan Geyer works on-site in Jordan
Question of funding
Financial considerations will be decisive in implementing the project. If funds are available, organizers want to construct other systems of water management, including ways to collect rainwater.
"The ground is very dry and can't absorb much water," said Geyer. "During the rainy season in Jordan, much water is lost by flowing through dried riverbeds and into the Dead Sea."
Rainfall is heavier in winter when the farmers can't use the water, but researchers have suggested two strategies for saving the water for the summer. They recommend large covered storage containers, but more importantly, they aim to store the water underground.
Underground storage allows for less evaporation and an extra possibility for purification as the water travels its course, Geyer pointed out.
The new water management plan in Jordan is slated to be fully implemented by 2022. The German federal government has already offered an additional 10 million euros in support for the project's costs through 2013.
Author: Christian Forberg / gsw
Editor: Sarah Steffen