DW: How did you first learn about the work of Bahman Mohassess?
Mitra Farahani: Strangely enough, Bahman Mohassess had a kind of physical absence within the contemporary art scene in Iran - partly because of his disappearance. This absence was always striking to me because of the sheer power of his works. There was a kind of paradox between the fact that he's rarely mentioned and rarely present in history, and the force and the power of his works, paintings and sculptures. One of my objectives was to try to find out how to explain that paradox.
Why did Bahman Mohassess leave Iran?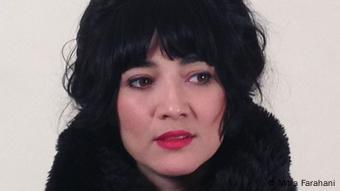 Mitra Farahani traced Bahman Mohassess to a self-imposed exile in Rome
The very first time that he left Iran was during his artistic formation in his youth during the 1950s, when the democratically elected Prime Minister of Iran Mohammad Mossadegh, who was famous for wanting to nationalize oil, was overthrown in a coup d'État orchestrated by the US and Britain. At this time, like many other artists, he had the opportunity to benefit from scholarships and funding for young artists to go and be trained in Europe. We're talking about the coup against Mossadegh, who most of the artists supported and were committed to in this political context. Obviously the defeat gave them the desire to leave, the disillusionment - that's the very first time he left Iran.
He came back to Iran in the 1960s and 70s and was really productive during this time and acquired some famous commissions from the wife of the Shah. This was the period when he translated and staged important works of theater in Iran by Jean Genet, Luigi Pirandello, Eugene Ionesco. He really flourished during this time. After the Iranian Revolution, he continued to travel in secret between Iran and Europe, especially Italy. Then 2006, the year when his brother died, was a kind of symbolic moment when Mohassess decided he could no longer stand the state of culture, and, let's say, the social environment in Iran. He left the country for the last time and remained in Italy.
In the film, you describe an "incompetent art history" that is unable to deal with the figure of Bahman Mohassess. Can you explain what you mean by that?
Beyond art history, there is history itself as a whole, which has not been recorded and written as such in Iran. It's really problematic that the important historical figures, whether artists or other kinds of people, have not been given the place in history that they deserve. Bahman Mohassess was of such huge importance for modern art, yet it was like only the tips of his fingers were emerging from the wave of history - I had to pull him out of this wave. In Iran, history was more or less written according to the figures in power, to the power of the state and to the power of the monarchy, and so there was no such thing as a history that could be a testimony to the figures outside of the state's power and of the monarchy. The history that has been written in Iran is the history of power and politics and never the history of thought, philosophy or art.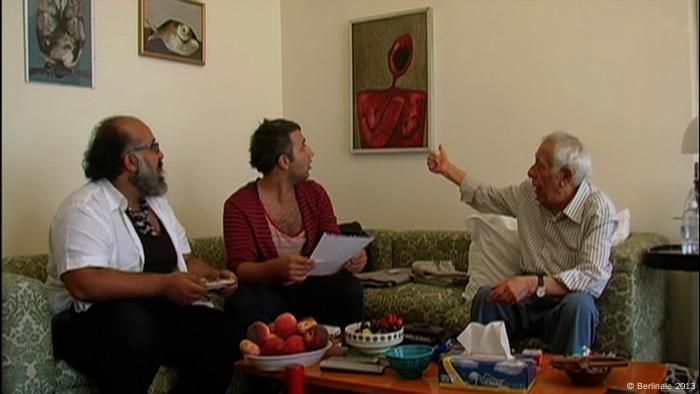 A scene from the film "Fifi Howls from Happiness" (2013) by Mitra Farahani
You live in Paris and Iran. How difficult is freedom of expression for you as a female filmmaker and artist in Iran?
My own belief is that there is no such thing as a difference between men and women on this issue, and you can really be sure that when you work as an artist in Iran you will never be more threatened as a woman than as a man. I never thought about things like this and through such categories because I really think they don't exist. If there are problems or difficulties, then it is for both men and women at the same level.
And what are the difficulties?
Whether you talk about political pressure or economic pressure - because there are both - I really believe that actually it's about the individual and of course, as I told you, there is no difference, in my opinion, between men and women in front of these various pressures. Look at all the male Iranian journalists who are in prison now. Maybe we don't always think about them as much as artists or filmmakers. But anyway, I really believe that the way that you as an individual face this kind of pressure, the pressure that Western journalists usually point at, like you are doing right now, to me it's down to the individual. It's about how you react to it and how much you are prepared to take and how far you are prepared to go as an individual.
With the film, it seems, you have rescued Bahman Mohassess from being swallowed by history. Given his disappearance and his tendency to destroy his own works, do you think that he actually wanted to be saved?
Well, it's a very good question because I could say that's the whole point of the film. Maybe this contradiction and this kind of vicious play between the need and the desire for being a part of history and this obsessive destructive character, who doesn't want to be saved or who doesn't want to be recorded or heard, maybe this contradiction will never be resolved somehow, even if it's resolved somehow by the film itself.
Mitra Farahani was born in Tehran in 1975. Farahani trained as a painter at Azad University Tehran and the Ecole Nationale Superieure des Arts Decoratifs, where she made her first documentary film "Just a Woman." The film was selected for the Berlin International Film Festival and received the Teddy Awards Special Jury Prize. Her documentary on sexuality in Iranian society "Zohre and Manouchehr (Taboos)" was screened at the Berlin International Film Festival in 2004. In 2005, she made the documentary film "Behjat Sadr: Suspended Time," a portrait of the pioneering Iranian abstract painter. Her latest documentary film about Iranian artist Bahman Mohassess (1931-2010), "Fifi Howls From Happiness," premiered at the Berlin International Film Festival in February, 2013.
Interview: Helen Whittle, Berlin