Authorities in Brazil are bracing for more protests on Wednesday after the Senate passed a 20-year government spending ceiling proposed by President Michel Temer.
The spending freeze has been billed as the centerpiece of austerity reforms which seek to control a ballooning budget deficit and revive Brazil's stalled economy.
The upper house voted 53 to 16 to pass the cap, although leftist opponents sought to delay the vote. The measure limits the growth of federal government spending to the rate of inflation for two decades with a presidential review in 10 years. The measure required two votes in the Senate and already passed the first voting round in late November.
'Historic mistake'
Following the vote, an estimated 2,000 people protested the cuts in the capital Brasilia. A bus was burned during the demonstration, and police fired tear gas to disperse the crowd.
In Sao Paulo, left wing protesters marched on the headquarters of FIESP, the country's main industrial association, before being driven back by security forces.
Labor unions and left wing groups fiercely oppose the cuts which they say will undermine education and health services as well as harming Brazil's poor.
A Datafolha poll published by the Folha de S.Paulo newspaper on Tuesday showed that 60 percent of Brazilians were against the cap.
Last week, the United Nations poverty and human rights rapporteur, Philip Alston, strongly criticized the 20-year spending cap as a "historic mistake." The austerity measures put "an entire generation at risk of social protection standards well below those currently in place," he said.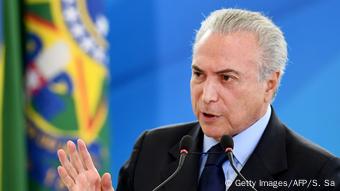 The latest polls show 63 percent of Brazilians want President Temer to resign
Temer's economic team says the spending cap is necessary to put government accounts back in order as well as to recover business confidence in the troubled Latin American giant.
Temer's uphill battle
Even barring the reforms Temer faces fierce public opposition. The former vice president came to power in August after the impeachment of leftist President Dilma Rousseff. He said he would focus on ending the political and economic woes that doomed Rousseff's government and is appointed to the post until 2018.
Temer is meanwhile battling allegations that he was complicit in the same corruption scandal that contributed to Rousseff's downfall, claims he was forced to formally reject in a statement on Saturday.
The latest Datafolha poll shows 63 percent of Brazilians want Temer to resign and allow early elections. Only 10 percent of those polled said they thought his government was doing a good job.
Temer's government has already sent Congress an equally unpopular proposal to reform Brazil's pension system, as some economists say the spending cap alone will not restore fiscal balance.
rs/msh (AFP, Reuters)