Thousands of demonstrators took to the streets of Berlin on Saturday to call for enhanced data protection powers and less state intrusion of privacy.
Marching under the motto "freedom instead of fear" protesters called for limits on the amount of information that the state, as well as private organizations, can hold about individuals.
Among the concerns of participants was the centralization of health, financial, telecommunications and employment data.
Data can be used for 'insane purposes'
Frank Bsirske, head of the powerful Verdi trade union, used the rally to call for an end to the ELENA employee income database and the retention of data by authorities.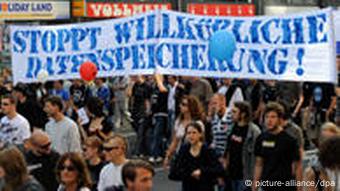 Thousands marched for better data protection in Berlin
German employers currently must submit their employees' income data to a government-sponsored central mainframe. The ELENA database is believed to form part of Germany's largest ever data acquisition program.
Bsirske said the history of the last 80 years in European history showed that data collection could be used for "insane purposes."
Demonstrators also criticized electronic cards for health insurance and the SWIFT agreement, which gives the United States access to bank transaction details in the EU to carry out counterterrorism operations.
Organizers said that some 7,500 people had taken part in the demonstration, down on the figure for last year of 10,000.
Author: Richard Connor (AP/AFPdpa)
Editor: Sean Sinico