Masked protesters enraged over the suspected massacre of 43 university students clashed with police on the streets of the capital, Mexico City, on Thursday.
Nearly 300 protesters confronted police in riot gear around Mexico City's airport several hours before much larger marches involving tens of thousands began in support of the missing students, whose alleged handover to a drug gang by corrupt police and subsequent murder has sparked national outrage.
Furious protestors hurled Molotov cocktails, burned tires, and shot fireworks at police. Authorities replied with tear gas to disperse the demonstrators.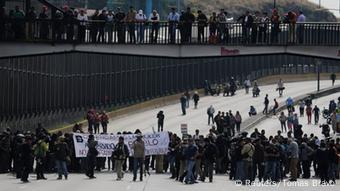 Hundreds of protesters blocked the main road leading to the Mexico City airport for an hour
The protests took place on the 114th anniversary of the day of the Mexican revolution to overthrow dictator Porfirio Diaz in 1910. The government canceled the annual parade because of the demonstrations.
Mexico has been rocked by a series of protests ignited by the disappearance of the students, who, according to the attorney general, were abducted from the southwestern city of Iguala by corrupt police, handed over to a local drug gang, murdered and incinerated.
Protests in recent weeks have become violent, with demonstrators burning government buildings in the state of Guerrero, and torching the door of the National Palace in Mexico City.
"The goal is to unite and mobilize the country, to lead it toward change," said Omar Garcia, a student at Ayotzinapa teacher training college, the same school the missing students also attended.
Mexican soccer star and Real Madrid forward Javier "Chicarito" Hernandez took to social media to express his support of the protests under the hashtag #WeAreAllAyotzinapa
The demonstrations are the latest manifestation of fury from Mexican citizens fed up with government corruption and a drug war that has left more than 100,000 people dead or missing since 2006. The protests have evolved into the biggest challenge of Enrique Pena Nieto's presidency.
"Mexico is hurting, but the only path to soothe this pain is through peace and justice," President Pena Nieto said.
bw/jm (AFP, Reuters)