"The accused was an accomplice in the camp's objective of destruction," state prosecutor Andreas Brendel told the court in Detmold, in western Germany, on Friday. "We owe it to the victims to pursue the crime even today."
Defendant Reinhold Hanning did not noticeably respond to the prosecution's request, according to news agency dpa's courtroom correspondent.
Judges in Detmold were expected to reach a verdict on May 27.
The case is based on complaints from 40 plaintiffs from Hungary, Israel, Canada, Britain, the US and Germany. Hanning is accused of facilitating the deaths of at least 100,000 people during his time as a guard at the camp.
Roughly 1 million people, most of them Jews, are believed to have died at the Auschwitz camp, set up in German-occupied Poland by Adolf Hitler's Nazi regime. The victims typically died either of starvation or in gas chambers.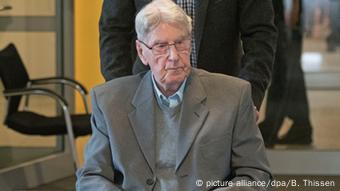 Hanning told judges that his stepmother had urged him to join the SS
During the hearing, which began in February last year, the 94-year-old admitted that he was an SS guard at Auschwitz and knew about the mass murders which were taking place there. During this admission, Hanning also expressed shame and asked for forgiveness.
The court heard how guards were aware of the exterminations taking place at Auschwitz, and how one of the guards' duties was to ensure prisoners did not leave the camp alive.
Hanning's case will probably be one of the last trials related to the Holocaust, in which more than 6 million people, mostly Jews, were killed. Another man and a woman are also on trial for being accessories to the murders committed at the extermination camp. A third person who also served as a guard in the camp died earlier this year before going to trial. He was 93.
mg/msh (epd, dpa)