Molins told a press conference Monday that Mohamed Lahouaiej Bouhlel had planned the massacre several days before Bastille Day and had recently developed an interest in radical Islam.
"Although there are no elements in the investigation to suggest at this stage an allegiance to "Islamic State" (IS) or links with individuals from the group ... he [Bouhlel] showed a certain recent interest for radical jihadist movements," the Paris prosecutor added.
On July 14, Bouhlel - a Tunisian living in Nice - used his 19-ton truck as a deadly weapon, plowing the vehicle into revelers and killing 84 people. IS has claimed responsibility for the attack.
Steps retraced
Molins said Bouhlel made reconnaissance visits to the Promenade des Anglais beachfront in the southern French city where he carried out the attack. He was caught on surveillance cameras twice rehearsing the journey that he would take.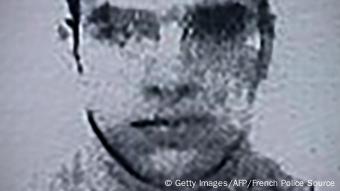 The 31-year-old plowed a truck into Bastille Day revelers
He also scouted several other sites in the city and gathered funds in order to rent a truck, which he hired on July 4.
Investigations also showed Bouhlel had grown a beard eight days before the atrocity, telling people "the meaning of this beard is religious". But authorities believe he must have been radicalized very quickly, as he had not shown a passion for religion until recently.
According to Molins, the attacker drank alcohol, ate pork, took drugs and engaged in "unbridled sexual activity."
Searches for radical content
He said a review of Bouhlel's computer and phone showed online searches relating to IS, other jihadi groups, the recent attack on a gay nightclub in Orlando and violent images.
Molins also told reporters that 13 bodies remain unidentified following the tragedy, and that officials had begun returning the remains of some of those who died to their families.
Meanwhile, three of six people detained in connection with the attack were brought to the French intelligence headquarters in Paris on Monday to face eventual terrorism charges.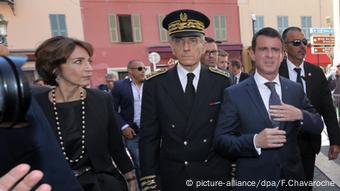 Prime Minister Manuel Valls (right) faces public anger
Also Monday, French Prime Minister Manuel Valls was jeered as he joined mourners for a ceremony of remembrance for the victims in Nice. He and two other ministers endured a humiliating chorus of boos, along with shouts of "Murderers!" and "Resign!"
The massacre in Nice was the third major attack on France in 18 months. IS targeted the Paris offices of the satirical magazine "Charlie Hebdo" in January 2015, while the Paris attacks at six sites on November 13 left 130 people dead.
mm/kl (AFP, AP, dpa, Reuters)