The 17-meter (55.7 foot) spacecraft blasted off from the Rocket Lab's facility on Thursday, successfully reaching space from the launch pad at the remote Mahia Peninsula. While the rocket failed to make orbit, company representatives and New Zealand officials praised the two-and-a-half minute journey as a major milestone.
- SpaceX successfully launches first recycled rocket into orbit
- The perfect job? Space engineers in the tropics
The vessel had a "great flight," Rocket Lab founder and CEO Peter Beck said. He added that "reaching space in our first test puts us in an incredibly strong position to accelerate the commercial phase of our program."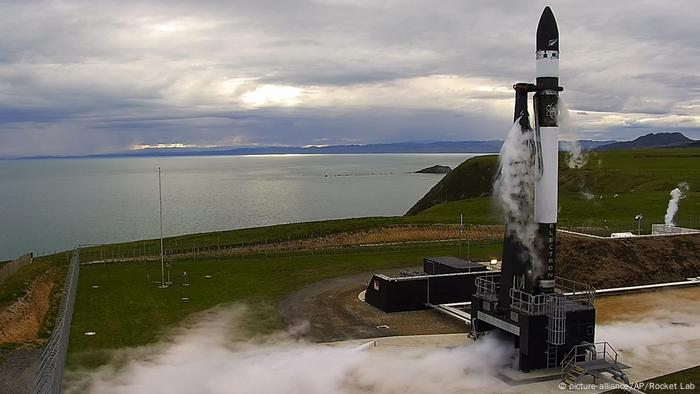 The Electron rocket before the launch from the Mahia Peninsula
With the Thursday take-off, believed to be the first successful launch from a fully-private compound, New Zealand became the 11th country in the world capable of sending rockets into space.
Space within reach
The "Electron" rocket was designed to carry payloads of up to 150 kilograms (331 pounds). It is made out of carbon fiber and powered with batteries through 3D-printed engines.
"Our focus with the Electron has been to develop a reliable launch vehicle that can be manufactured in high volumes - our ultimate goal is to make space accessible," Peter Beck said in a statement.
Eventually, lightweight rockets could transport small satellites into orbit every week. Private businesses and other clients could then use such devices to monitor crops and the weather but also for "Internet from space, natural disaster prediction, up-to-date maritime data as well as search and rescue services," according to Beck.
The start-up company has offices in both New Zealand and the US state of California, and is financially backed by US giants like Lockheed Martin.
Rocket Lab's researchers are now sifting through terabytes of data sent out by the rocket during the flight. The team has already build a second test spacecraft, but the next launch is still months away.
The firm hopes to start commercial operations before the end of the year.
dj/jm (AFP, Reuters, dpa, AP)