Following the August 27 election in Gabon, former colonial power France has called for a vote recount, as President-elect Ali Bongo's victory is based on an extremely thin majority. UN Secretary General Ban Ki-moon spoke to both Bongo and his main rival Jean Ping at the weekend and "deplored the loss of life", a UN statement said, adding that Ban "called for an immediate end to all acts of violence."
As a result of the post-election violence which by Tuesday had reportedly claimed between three and seven lives, the African Union is ready to dispatch a high-level delegation, including heads of state, to the capital Libreville to help calm the situation, AU chairman and president of Chad, Idriss Deby, said. Last week, France, the European Union and the United States called on Gabon's electoral commission to publish detailed results from each invididual polling station.
Late Monday, Justice Minister Seraphin Moundounga, who doubles as a deputy prime minister, resigned. According to the AFP news agency, Moundounga also demanded "a recount of the votes, polling station by polling station, and registry by registry."
Unstable situation, call for strike
Speaking to DW, some of those directly affected by the violence described their experiences. "My brother and I were still in the neighborhood. We heard shots, which became even more. I wanted to run away with him, but he said he could not move I woke my mother and we drove to the hospital. When we arrived, my brother was already dead," said one man who did not want to be identified.
Official figures from the government say seven people have died and 1,100 have been arrested since the violence erupted. The real number is probably higher, says Marc Ona, coordinator of 'Tournons la page Gabon' (Let us turn the page, Gabon). "Many people have disappeared including activist and former member of parliament Bertrand Zibi," Ona said, adding that people were indiscriminately killed in the streets. Some 15 French nationals are among the missing persons.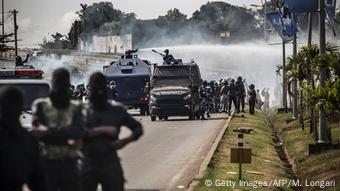 Police patrolling the streets of Libreville
On Monday Ping called for a general strike to force Bongo out. He took to Facebook where he wrote: "We cannot accept that our people will be killed like animals without reacting." However there was little response to Ping's call as shops and banks re-opened in the capital Libreville after being closed for days.
French political commentator Mathilde Debain told DW that the security situation is currently very unstable. She said that, following the Wednesday attack on the opposition tally center by government forces in Libreville, many people were still searching for their relatives and loved ones. "There have been reports of increased looting and raids in the opposition strongholds within the capital and also in other cities in the country," Debain said.
Media shutdown
According to Debain, the situation could escalate. She told DW that the authorities became scared when people took to the streets and that President-elect Bongo had increased the security forces to 50,000. That is double the size that his father Omar Bongo had during his presidency which ended in 2009. "Since Wednesday there has been a media shutdown in the entire country, restraining access to information. The ban was partially lifted on Monday, but social media networks remind inaccessible. Even televisions did not broadcast anything. For five days no one knew what was going on in the country," Debain said.
A lobby group for digital rights advocacy sees the shutdown of social media as an increasing threat to media freedom. "Time and again we have seen early warning signs of human rights violations if the internet is shut down," said Deji Bryce Olukotun, manager of the group. Gabon could go in this direction, he fears.
One election, two winners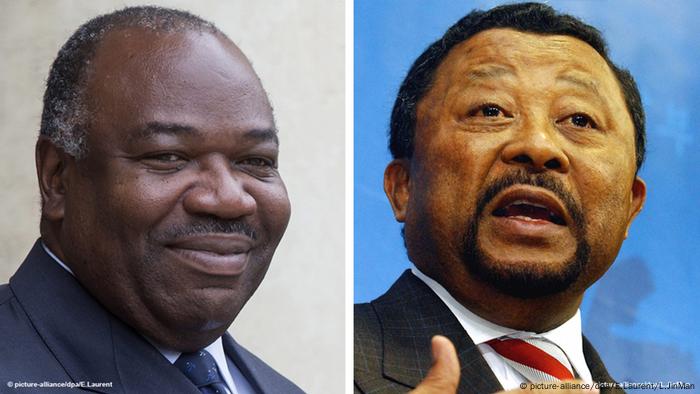 Both Ali Bongo (left) and Jean Ping claim victory
Debain believes that Ali Bongo wants to take advantage of the media blackout to move quickly, possibly within the next two days, to be sworn in and continue his presidency for the next seven years.
But for his rival Jean Ping,"The whole world knows who the president of the Republic of Gabon is. That's me, Jean Ping. As the elected president, I am very concerned about the situation in the country which is moving towards chaos. That is why I call upon all the responsible parties, so that the country returns to peace."
The 73-year-old former president of the African Union, wants a recount of the votes. So far, the government has refused. Ping hasnot taken the matter to court because he does not trust its independence.
The opposition is right to speak out, said Faustin Boukoubi, secretary general of Bongo's Gabonese Democratic Party. "This is also part of democracy and freedom of expression in our country. But you should also respect the electoral commission that announced the results. And I stick to these official results," he declared.
On Tuesday a European Union observer mission said it had found anomalies in results from the southeast region of Haut-Ogooue where President Ali Bongo won 95.46 percent of the votes cast. The opposition had claimed that turnout in the region had been inflated to secure victory for Bongo.
Fiacre Ndayiragije and Audrey Parmentier contributed to this article.