While Conservative MPs voted in the first round of their party's leadership contest on Tuesday, Opposition and Labour leader Jeremy Corbyn came under ever-increasing pressure from within his own party to step down.
In a "last roll of the dice," Deputy Labour Leader Tom Watson (pictured above, left) was due to meet with trade union bosses on Tuesday to discuss Corbyn's beleaguered leadership in the hope of reaching a negotiated settlement.
During a brief meeting with Corbyn on Monday, Watson reportedly told the Labour leader that the support of the party membership alone was not enough to continue his leadership.
En masse resignations
Following the result of the UK's EU referendum last month - which saw 52 percent of the electorate vote in favor of a "Brexit" - pre-existing ructions within Labour party ranks were ripped apart by a mass exodus of Labour's Shadow Cabinet. The departing ministers argued that Labour was in need of a leader who resembles a "credible prime minister." On Monday, Shadow Minister for Europe Fabian Hamilton became the sixty-fifth Labour Cabinet minister to resign within 10 days.
The Labour leader also faces accusations that it was his "lackluster" campaign during in the run-up to the EU referendum that led to millions of Labour supporters ignoring his advice to vote against a "Brexit."
Despite having also lost last week's vote of no confidence 172 votes to 40, Corbyn insists he still has the mandate to continue as party leader.
"Only nine months ago, I was very honored to be elected leader of our party with 60 percent of the votes," Corbyn said in a video published on Monday.
"I have a huge responsibility; I'm carrying out that responsibility."
"We're now at the biggest membership we've been, certainly in all of my lifetime … That membership wants and expects all of us - me as leader and members of parliament - to work together in their interests, the interests of everyone in this country, to achieve a better society, better standards of living and real equality in the future."
If Watson's meeting with union bosses on Tuesday fails to reach a negotiated settlement, however, Corbyn looks set to face a direct leadership challenge within a matter of days.
Waiting in the wings is former Shadow Business Secretary Angela Eagle.
"I have the support to run and resolve this impasse, and I will do so if Jeremy doesn't take action soon," Eagle said on Monday. Also vying for the leadership is former Shadow Secretary for Work and Pensions Owen Smith.
While pressure grows from within the party for Corbyn to step down, as does speculation of a formal split.
Former Deputy Labour Leader John Prescott told BBC's "Sunday Politics" show that a party split could still be on the cards if the in-party standoff continues.
"We need to prevent the civil war," Prescott said.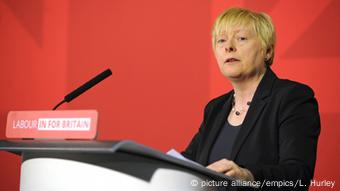 Former Shadow Business Secretary Angela Eagle is likely to challenge Corbyn's leadership
"It will be disastrous for us. I sat in the Labour Party when it was the SDP. It put us out for 18 years. Is that what we want again?" he asked.
The former deputy prime minister warned Labour MPs, however, to "think twice before you go that road."
Former Labour leader and longest-serving leader of the Opposition in British political history, Neil Kinnock, rejected proposals of a split on Monday, however.
"We are not leaving our party," he told a Labour Party meeting. "We are going to fight and we are going to win!"
But for now, Corbyn remains resolute in his decision. Should he face a challenge from Eagle or Smith, the Labour leader insists that he will stand his ground.
"Those who want to challenge my leadership are free to do so in a democratic contest, in which I will be a candidate," he told the "Sunday Mirror."