"The row has a history in which Turkey is not the villain," the Financial Times Deutschland wrote. "It was the Greek Cypriots who rejected reunification with the northern part of the island in 2004 -- in the knowledge that as an existing EU member they wouldn't suffer any disadvantages from doing so. Turkey, on the other hand, can not join up without approval from the Greek Cypriots. It would thus be unfair and inappropriate now to allow the negotiations to fail due to the Cyprus issue.
Lüneburg's Landeszeitung newspaper expressed similar sentiments: "The EU integration of Turkey hangs in the balance because the newcomer doesn't want to play by the rules and the club applies double standards. Thus, the EU lets the Greek Cypriots get away with their insistence on the embargo on the Turkish Cypriots. It's right that Turkey as an accession candidate must recognize all members. Turkey is still not ripe for EU accession -- but it is for negotiations. A suspension would jeopardize the project which has global dimensions: the reconciliation of Islam and democracy and the upgrading of the EU to a world power."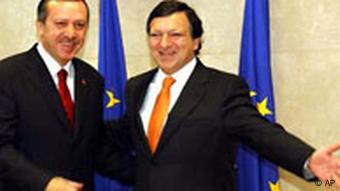 Erogan (l.) and EU leader Barroso aren't smiling now
"Is Turkey still interesting?" asked the Westdeutsche Allgemeine Zeitung from Essen. "Ankara keeps its ports closed to goods from the Greek-Cypriot south. In spite of the Republic of Cyprus being a member of the EU, and the EU and Turkey being in the midst of clear trade agreements. Government leader Erdogan does a disservice to Turkish aspirations when, in order to please nationalists, he puts domestic political motives above the European perspective. In any case, Turkey's enthusiasm for Europe has faded. It's possible that the widespread anti-Europe sentiment is a result, not least, of remarkable growth: that one no longer needs the EU as an engine for the economy."
"The EU has allowed Turkey to make it look like a fool long enough," according to Berlin's Die Welt. "Appeals, warnings, threats -- all these maneuvers from the European diplomats' tool box have accomplished nothing on the Bosporus. At most, they have incited the anger of many EU citizens toward a pliable expansion policy that has repeatedly opened a loophole for the candidate. That weighs heavy. The issue is not just Turkey's refusal to open ports to EU member Cyprus. It's also that when it comes to implementing reformed legislation from the summer of 2002, Ankara has not made any more real progress in a year. Without acting consistently, European institutions will continue to lose credibility. The EU doesn't need Turkey."