For many years, Mazi Kretzschmar passed by the Madonna on her way to school. It was painted on a Leipzig apartment building.
As a young girl in the early 1990s, Kretzschmar was fascinated by the graffiti. But over the years, it disappeared beneath layers of posters, and she soon forgot about it - until she walked by the painting again in January 2012. The posters were torn, revealing the Madonna's head.
Now 28 years old, Kretschmar has been professionally involved in the art sector for the past five years, organizing among other projects the Urban Art Festival, IBUg. When she peeled back the paper, it was clear that what was underneath wasn't just amateur scribbling.
The work, "Woman with Child," was created by French artist Xavier Prou, alias Blek le Rat. He is regarded as a pioneer of stenciling, and began with the technique in 1981, long before British undercover stenciler Banksy turned up on the scene.
"Whenever I painted them on the walls, I had the feeling I was leaving a part of myself behind in the cities I visited," said Le Rat.
Love and reunification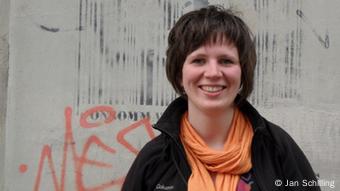 Kretzschmar had the expertise to recognize the value of the graffito
In Leipzig, the piece he left behind is now on Saxony's state list of historical monuments. "That's something of a sensation," said Annekatrin Merrem from Leipzig's Office for Monument Conservation.
Typically, only bygone eras are represented on such lists, and it can take a long time for a monument to be chosen. But Le Rat's Madonna was granted protected status in just three months. It's not enough for a work to be recognized as high-quality art, it also should be representative of the time period it comes from.
"The southern outskirts of Leipzig were full of wall paintings," remembered Maxi Kretzschmar. "But unfortunately hardly any of them are left."
All the better for Le Rat's Madonna. "As one of the last representatives of the post-reunification period, the painting is now considered to be particularly deserving of protection," said Merrem.
The Leipzig Madonna is not just an impressive work of art or a post-reunification artifact, but also tells a love story. In the early 1990s, Le Rat came to Leipzig when he was invited to paint pictures for the lecture halls at the university. He used the opportunity to leave his fingerprint on the city as well.
"That was a time when graffiti hadn't yet been criminalized," said Le Rat, who was then in his late 30s.
He dedicated the Madonna to the woman he was in love with, Sybille. She came from the area and had met the French artist in Leipzig. Now, Sybille and Blek have been married for 20 years and have a 19-year-old son.
"It would be nice if the graffito could stay here, because it means a great deal to Sybille and me," said Le Rat. The piece is his oldest remaining work of art.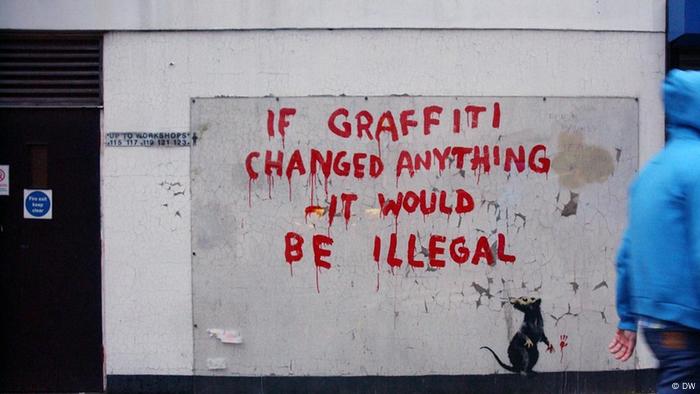 Banksy's works have become collector items
Fleeting glory
The question of when graffiti can be considered art is not a new one for art experts. In 2011, a graffito by Klaus Paier in Aachen was also deemed worthy of protection.
"The work 'Lovers' was placed under protection for artist and historical reasons," explained monument conservator Monika Krücken. Only a few of Paier's political works remain intact.
Graffiti is also a controversial topic in Aachen, said Krücken, but, as in Leipzig, the experts were quick to agree that Paier's piece was a valuable work of art. "Even the former mayor was in favor of protecting the graffito," commented Krücken. "Without his support, it would have been more difficult to protect 'Lovers.'"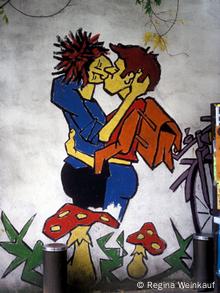 Paier's 'Lovers' has received special recognition
Switzerland and Great Britain have taken similar steps when it comes to the conservation of graffiti. In Zurich, "Undine" by Harald Naegeli has been listed, and citizens in Bristol voted in a referendum to recognize Banksy's works as art. A number of the secretive street artist's damaged works are also set to be restored.
Nevertheless, by its very nature, street art is not meant to last forever. While Paier's piece in Aachen is still in good shape, Le Rat's Madonna shows signs of wear.
"It's a challenge for restorers, conservators, and artists," said Merrem. Can you cut a graffito out of the wall it was painted on, or put it behind glass? How do you preserve a work that was never meant to last? In Leipzig, the jury is still out on what will be done with the Madonna.
Blek le Rat simply says, "C'est la vie; it's graffiti."
Author: Jan Schilling / kjb
Editor: Gregg Benzow