Claudia Walde is a busy woman. Her renown as a graffiti artist takes her all over the world - so it's hard to pin her down for an interview.
When we do finally meet, it is in a parking lot, near a highway in a distant part of eastern Germany. From there, she takes me to a farm where her studio is located, in a far corner. She values her privacy and asks me not to reveal the name of the village where we met.
In the world of graffiti art, 31-year-old Claudia Walde is known as MadC. She has become quite an institution and is considered to be the very best in a domain dominated by men. Indeed, Claudia has created graffiti art all over the world, from Mexico to Russia, London to Budapest.
Like most modern day globetrotters, has a blog and Facebook profile that keep an accurate record of her work. Her blog - written in English - gets most of its visits from the US, then from the UK. Germany takes third place. Walde thinks globally, but lives in the small city of Halle rather than the capital, Berlin.
Sporting black jeans, sneakers and a red t-shirt, Claudia Walde is small and slim. But don't let looks deceive, this artist is a bubbling bundle of energy.
"This is my haven," she says in her far from glamorous studio. "I am very rarely out here with other artists." Glancing from the window, my eye catches the busy train line that links Berlin and Leipzig.
A wall with Walde's signature art
The world is my canvas
A nomad by nature, MadC is rarely in Halle.
"I'm never home more than a day or two between my trips," she said. She recently covered 17,000 miles eight countries in a two-month period. "I have to slow down at some point," she says, admitting that she likes to spend her holidays at home. "Here I can really relax and leave the limelight and big cities behind me."
Claudia grew up in the former GDR and in Ethiopia, where her father worked as an agricultural engineer. When her family returned to Germany, she felt like an outsider, and to escape this role, set about making her own name famous by spraying it on the walls. She used MadC - a tag derived from her childhood nickname, "crazy Claudia."
Claudia Walde, who also works as a designer and lecturer, says the letters which a graffiti artist chooses are extremely personal.
"By examining the form and color of the characters and the way they are painted, I can determine a lot about an artist's personality," she confides. In a book called "Street Fonts," Claudia has put together a collection of letters used by 150 graffiti artists.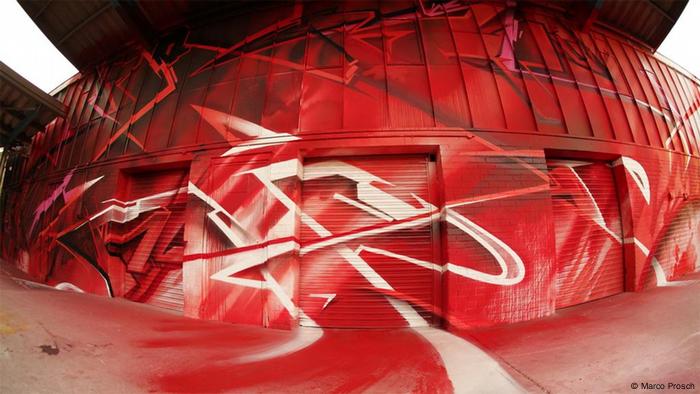 Walde doesn't shy away from using bright shades
Internet influences
Walde says the influence of the Internet has changed the graffiti scene. National styles have suddenly become mixed. "In London there are people who paint the same as those in Los Angeles," she said, adding that she was concerned about the loss of local styles.
It is not just walls that Claudia Walde likes to spray, she has also created numerous works on canvases, which she sells in galleries. She always wanted to be a freelance artist and even turned down a lucrative job offer after she completed her design studies in London.
"I had to decide within a week whether I had the courage to forgo a salaried position and return to Germany and try to survive as an artist, without knowing what the future would bring," she said. "Take a spray can and shake it!" she thought, "it was now or never."
Very few artists manage to make a living from graffiti art and many seek refuge in advertising and design agencies. These days, Claudia Walde can't imagine herself in a salaried position and tries to balance her work between the street and the gallery.
"When it comes to money, there's always someone who envies you," she sys, "but no one would ever refuse the commissions that I get - that is for sure."
Heart on the wall
Dividing her time in a way that allows her as much creative freedom as possible is important for Claudia. Around 15 percent of her time she works on paid commissions, 60 percent on the unpaid wall projects and about a quarter of her time she sprays canvases.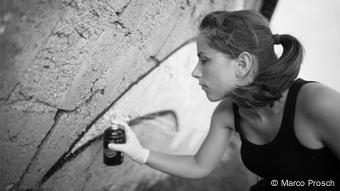 Walde has broken into a field traditionally dominated by men
"I'm definitely first and foremost a graffiti artist," she says, "I can't imagine giving up the wall work, that's where my heart is."
As we move through the fields adjacent to her studio we come across her biggest work to date - a wall of around 700 square meters, the size of a handball court. It took her four months to complete this unpaid project.
She has no idea what fascinates her so much about her occupation. Perhaps it is the old feeling of being an outsider - a female graffiti artist in what is mainly known as a man's arena. Her work is like a fire inside her she says, and it is that fire that keeps her going.
Autor: Andreas Main / bos
Editor: Kate Bowen