Typhoon Nangka hit the western prefecture of Wakayama and rains caused rivers to overflow their banks after some parts of Honshu, Japan's largest main island, received more than 600mm (23 inches) of rain since the storm began to approach on Thursday.
Two men drowned, according to NHK national television, and some 35 people were injured.
Nangka had been downgraded to a tropical storm by Friday morning but still packed sustained winds of 80 kilometers per hour (51 mph), with gusts of up to 120 kph. It was expected to dump a further 300 mm (11 inches) of rain on parts of Japan by Saturday morning.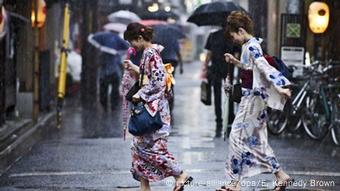 Rains bore down on downtown Kyoto
Authorities had advised nearly 100,000 people to evacuate across a wide part of western Japan due to the threat of flooding and landslides. At one point on Thursday, nearly 400,000 people were advised to leave their homes.
Trains in western Japan suffered delays, while highways near the ocean were closed and almost 165 flights were cancelled.
The storm is expected to head into the Sea of Japan later on Friday and weaken into a tropical depression. It will then head northeast across the northern tip of Honshu on Sunday.
av/gsw (dpa, AP, AFP)