The New York superstar Lady Gaga did not turn up at the Echo awards show in Berlin, despite picking up three awards - for best newcomer, best international rock or pop act, and hit of the year for her single "Pokerface."
Instead, it was left to Robbie Williams, Rihanna and Sade to supply the Anglo-American glamour. Williams received his seventh Echo award - this one as best international pop artist - from German goalkeeping legend Oliver Kahn. Williams, dubbed by Kahn a British pop "titan," used the show to present the latest single from his comeback album "Reality Killed the Video Star."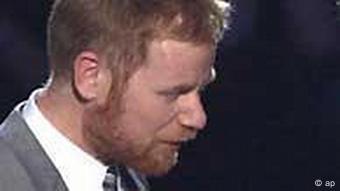 Reggae and hip-hop artist Peter Fox, left, picked up another award
German and international awards in equal measure
Altogether, 20 prizes were awarded by an expert jury. German pop was represented by rock band Silbermond and hip-hop artist Jan Delay, who walked away with two awards each, while the ever-present Xavier Naidoo shared the domestic rock/pop award with Cassandra Steen, the Stuttgart-born singer with American parents.
Berlin-based reggae and hip-hop artist Peter Fox converted only one of his five nominations, but it was one of the biggest - the former Seeed member won the hotly contested best album award for "Stadtaffe." "I won't stop making music," Fox promised after he accepted the award. He intends to return to Seeed in the near future.
There was even room on the winner's podium for some true veterans. British electronic maestros Depeche Mode won the best international rock/pop band category, cementing their enduring popularity in Germany.
Rammstein, Green Day and German rapper Sido were on hand to represent pop music's darker elements, each walking off with prizes in the alternative and rap categories respectively. Sido accepted his award with the traditional rapper's middle-fingered salute.
bk/AFP/dpa
Editor: Rob Turner