The rap artist Bushido made it to the top of the music world as one of Germany's first gangsta rappers. Since he first came to notice in Berlin's underground rap scene around a decade ago, Bushido - whose real name is Anis Mohamed Youssef Ferchichi - has been scorned by the mainstream media and politicians alike.
His provocative lyrics have been called nationalistic, racist, sexist, anti-gay and offensive to the handicapped, among other things. Several of his albums are on a list of banned media in Germany.
Bushido's music includes gems like "Berlin Song:" ("Berlin is getting tough; we'll take every faggot and beat him up,") "Gang Bang," a nauseating account of violent group sex, or " Dreckstueck" (Piece of Dirt), an misogynistic ditty that includes the lyrics: "Just because you're a woman, doesn't mean I won't beat you till you're blue." Flirtations with fascism, like the line "Salutiert, steht stramm, Ich bin der Leader wie A" (Salute, stand to attention, I am the leader like 'A'), are frequent.
New image via the media
Despite all this, the rapper - the son of a Tunisian immigrant and a German mother - seems to be undergoing a sort of media-led rehabilitation. A major motion picture about his life was recently released, fittingly titled "Zeiten aendern dich" ("Time can change you"). It is based on his best-selling autobiography, and chronicles his tumultuous life story (hardship, abuse, drug dealing, prison,) and his struggle for acceptance and success in the world of German rap.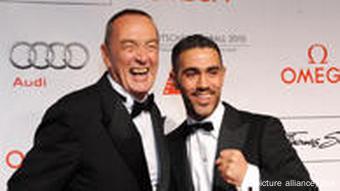 Bushido's story was picked up by top producer Bernd Eichinger
Like US rap star Eminem's semi-autobiographical hip-hop account "8 Mile," the film stars the musician himself, supported by a cast that includes some of Germany's best actors including Moritz Bleibtreu and Hannelore Elsner. It was made by top German director-producer duo Uli Edel and Bernd Eichinger.
Since the film's release, a mellower, notably less aggressive Bushido seems to be taking shape in the public eye. Now he's not only the angry rapper, he's the smiling young entrepreneur who sits and jovially takes a ribbing from talk show hosts. And as could be expected, the bad boy's transformation seems to have caught the media's fancy.
"(When you interview) Bushido, you get the impression that he wants to be nice and impress the bourgeois press," Joachim Hentschel, deputy editor-in-chief at the German Rolling Stone magazine, told Deutsche Welle.
Recently, tongues wagged when Bushido was spotted - dressed in a brand new tuxedo - chatting cosily with Bavaria's strictly conservative premier, Horst Seehofer, at the German Film Ball in Munich.
'A good career plan'
The metamorphosis is part of a larger career plan, Hentschel asserted: "He made his records first, then a book, then a film - it was clever of him. It's a good plan for a career nowadays."
Moreover, Hentschel points out, the image-polishing works both ways.
"It's not only Bushido trying to paint himself as a responsible person in society. The media also wants to have some gangster to talk to and to present. It sells. It's very fashionable to be seen with him," Hentschel said.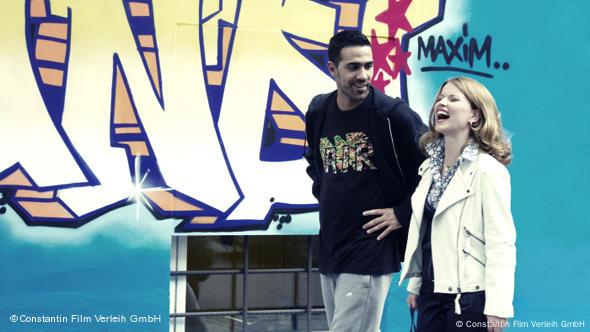 Bushido's days as a spraypainting 'tagger' are recounted in the film
Hentschel believes that Bushido's extreme machismo is at least partly a stage persona. Moreover, he said the rapper came to realize his responsibility as his fame took him from the small underground rap scene to the peak of mainstream German pop culture.
Conflict with gay and lesbian community
But should someone who wrote lyrics that include the phrase "Tunten vergasen" ("gas the homos") ever be considered worthy of a feature length biopic - especially one likely to push its way near the top of the German charts?
Klaus Jetz, the executive director of the Lesbian and Gay Federation in Germany, said his group pressed charges against Bushido in 2007, citing the "gas the homos" reference.
"There is a problem of violence against gays in Germany that cannot, and should not, be played down," Jetz said. "We charged him with inciting hatred against part of the population." Incitement was made illegal in Germany in the wake of Nazism.
When Bushido was invited by a teen magazine to appear at a public rally against violence, Jetz's protesters came out carrying signs that read "The Fox Is Minding the Henhouse."
Bushido gave the protesters the finger.
New audience, new style?
Now, Jetz says, he sees the rapper is making a "180-degree turn" in his image, and hopes it's because his group's protests and other actions affected sales.
"Money talks. It's the only language these people listen to," he said.
Or, it could be that Bushido is growing up and wants to reach a different target audience, he speculated. Whatever the reason, he's glad for the change - as long as it sticks.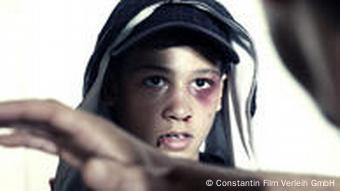 The film portrays young Bushido's life as violent
With his success, Bushido is being "integrated, and fawned over. He is on every talk show, he is on the cover of [mainstream teen magazine] Bravo," Jetz noted. "He can't behave like a bull in a china shop any more. And as long as he doesn't start agitating again, its all for the good."
Bushido's extreme lyrics may or may not have helped his success. But his popularity is mostly due to the fact that "he presents himself as a rebel in an era when pop music no longer has rebels," Rolling Stone's Hentschel said.
Back in the 1960s, rock and roll was rebellion itself. But today's musicians are insipid; they stand for nothing special.
A good story line
"Chris Martin of Coldplay makes melodic music - but is there anyone who deeply identifies with Chris Martin?" Hentschel asked. "Bushido has a world view - it's about fighting for yourself, standing up for yourself, and also of being part of a gang."
His story shows "that someone can have all the negative issues you can have in Germany and still come out on top," he added.
And if that sounds like a good storyline for a bestselling book and a movie, Bushido, and his hit-making producers - politely - agree.
Author: Jennifer Abramsohn
Editor: Kate Bowen