Pope Benedict XVI issued a strong apology to victims of child abuse by Catholic clerics as thousands took to the streets of London to protest over his visit.
The pope told a mass in London that the church had been humiliated by the actions of pedophile priests.
Speaking of the "immense suffering" caused by the abuse of children within the church, Benedict said. "I express my deep sorrow to the innocent victims of these unspeakable crimes." Some 10,000 protestors voiced opposition to the visit
"I also acknowledge with you the shame and humiliation that all of us have suffered because of these sins."
Later, the pope met five people who had been molested by priests as children and apologized to them.

"He was moved by what they had to say and expressed his deep sorrow and shame over what victims and their families had suffered," a Vatican statement said after the meeting.
Range of protest issues
While the meeting took place, about 10,000 demonstrators protested about a range of issues, including the churches handling of the abuse crisis. Marchers also carried banners criticizing the Vatican's views on homosexuality and opposition to the ordination of women and contraception.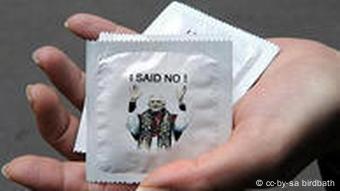 Vatican opposition to contraception was another contentious issue
The protests were the largest during the pope's four-day visit to England and Scotland, which was due to end on Sunday with a visit to Birmingham, and the largest on any of the pope's 17 trips abroad.
The pope began the day by holding separate meetings with British Prime Minister David Cameron, deputy Prime Minister Nick Clegg and acting opposition leader Harriet Harman.
Clegg, a self-professed atheist, spoke to the pope in his native German about subjects including co-operation and peace in Europe.
The pontiff ended the day conducting an open-air prayer vigil for 85,000 pilgrims in Hyde Park.
Security remained tight after six men were arrested on Friday for plotting a terrorist attack against the pope in London.
Police investigations failed to produce any corroborating evidence and the men were released from custody early on Sunday.
Author: Nicole Goebel, Richard Connor (dpa/Reuters/AFP/AP)
Editor: Andreas Illmer