Polish prosecutors opened the investigation on Thursday, prompting renewed concerns that the ruling Law and Justice (PiS) party is trying to reduce the powers of the Constitutional Court.
At the center of the government's investigation is the court's chief justice, Andrzej Rzeplinski. He has been accused of exceeding his powers by stymying the nomination of three judges selected by the country's right-wing parliament. Rzeplinski said he blocked the judges on the grounds that their nomination was unconstitutional.
"If I understand this correctly, this is a clumsy attempt to interfere with the independence of the judiciary," Rzeplinski was quoted as saying by Polish news agency PAP.
Ultimatum from the EU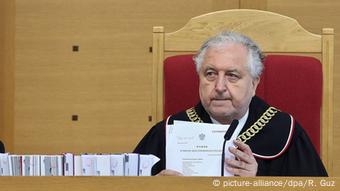 Andrzej Rzeplinski
In July, the EU set a three-month deadline for Warsaw to revise a draft law it had approved that critics said failed to reel in the parliament's power to sway the court. The potential penalties for Poland if it didn't meet the deadline were unclear, however.
"The draft of the Constitutional Court approved by parliament does not address a number of important issues raised by the European Commission and the Venice Commission," a European Commission spokesperson said in July.
Polish Interior Minister Mariusz Blaszczak criticized the EU's move, insisting Brussels "should instead support the member states" and "concentrate on the fight against terrorism."
blc/sms (AFP, dpa)