The Ministry of Health in Poland has put out a short video producing many offspring and encouraging the country's citizens to do the same.
In the 30 second public service announcement, a rabbit "narrator" reveals the secrets of making a big family, which are a healthy diet, exercise and little stress. A romantic couple having a picnic makes a brief appearance.
"If you ever want to be a parent, take us rabbits as an example," the narrator says. "I know what I am talking about. Our father has 63 children."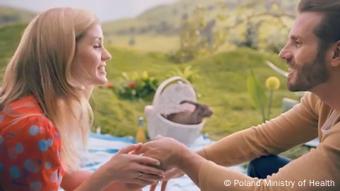 A video from Poland's Ministry of Health features a couple holding hands with a rabbit in the background
Rabbits are often associated with fertility as they are known to produce a lot of offspring.
Read more: Poland's Catholic Church seen as moral authority
The video was part of a TV and radio campaign financed by Poland's health ministry, who told the Associated Press that it was trying to encourage Polish citizens to live healthy lifestyles in their reproductive years — between the ages of 18 and 45 — to promote reproductive health.
According to World Bank statistics, Poland has one of the lowest fertility rates in Europe and the country's population has been slowly decreasing since it peaked in the late 1990s, dipping below 38 million in 2015.
Fertility has been a complex issue in Poland as it has some of the strictest abortion laws in Europe. A proposal to ban abortion entirely sparked a "Black Monday" women's strike in October 2016, and several Women's Day protests broke out earlier this year after over other attempts to tighten abortion laws.