The Polish composer Henryk Gorecki, best-known for his "Symphony of Sorrowful Songs," died on Friday at the age of 76.
Gorecki had been suffering from a number of illnesses, most critically a lung infection.
The composer was born near to the southern Polish city of Katowice, where he died. He became an orphan at the age of two when his mother, a pianist, died.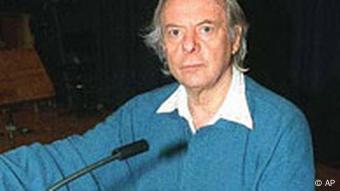 Stockhausen was one of Gorecki's influences
He grew up to study music at the Katowice Music Academy and was at the forefront of an avant-garde Polish classical movement from the 1950s to the 1970s. Among his influences was the German composer Stockhausen.
"Gorecki's work is like a huge boulder that lies in our path and forces us to make a spiritual and emotional effort," current head of the Katowice Music Academy, Professor Eugeniusz Knapik, was quoted as saying by the Polish news agency PAP.
Most famous piece
Gorecki's most famous piece of work, also known at the Third Symphony, won him worldwide acclaim in 1992 when it was re-released featuring the American soprano Dawn Upshaw. The recording topped music charts in the United States and Britain.
The work is divided into three movements and takes its inspiration from a 15th century religious lamentation, a Silesian folksong about a woman looking for her son and a message written on the walls of a Nazi prison cell by a young Polish woman.
More recently, Gorecki composed works written especially for the US string ensemble the Kronos Quartet.
Author: Richard Connor (Reuters, dpa, AFP)
Editor: Andrew Bowen