Musicians Johannes Denhoff, Luciana Duta, Zazie Lewandowski and Karl Huros of Braunschweig's Staatstheater climbed into helicopters and put their instruments to work on Sunday to make the performance of contemporary composer Karlheinz Stockhausen's "Helicopter String Quartet" a success.

"When you're up above in the air, it is truly a feeling of euphoria," Denhoff told German news agency DPA. "You feel like you're part of a work of art."

The "Helicopter String Quartet" consists of four helicopters and as many musicians. The participants play from inside the hovering crafts. The combined sound of the instruments and the helicopters make up the piece, which is part of a 29-hour work called "Light Cycle."

Audience crucial to success

The concert of rotors and strings was broadcast in a hangar from which the helicopters took off. Once the helicopters reached the altitude of 700 meters (2,300 feet) and were visible only as small specks in the sky, the hangar doors closed and the audience turned to the four large screens on which they could follow the individual musicians.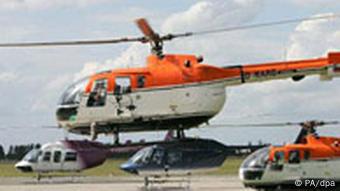 Parity between man and machine?

The Braunschweig performance was only the third successful one ever. The composer himself set the bar high as to what can be deemed acceptable performance: The helicopters must lift off three times within one day and have a new audience for each round.

All together, around 1,100 people watched the spectacle, according to the organizers.

Technical feat

"That was an extreme technical challenge," admitted sound engineer Olaf Mielke, adding that the performance had been almost perfect, save one minor hiccup.

The piece was put on by the city of Braunschweig, which currently holds the title "City of Science 2007," and a contemporary music festival. It cost around 130,000 euros ($173,000), 70,000 of which was paid for by the city.

The "Helicopter String Quartet" was previously played in Amsterdam, in 1995, and Salzburg, in 2003.