Born to a Polish mother and a French father in 1810 in the village of Zelazowa Wola near Warsaw, Frederic Chopin spent his most of this youth in the Polish capital. In 1830 he left for France, where he lived till his death at the age of 40. Among Chopin's most popular works are his mazurkas, based on national Polish folklore, piano concertos, and nocturnes.
The Polish characteristics in Chopin's music are associated with the fact that he lived at a time when Poland did not exist as a state, explained musicologist Monika Strugala, who is also the project coordinator for the Chopin Year 2010.
Poland had been partitioned by neighboring Russia, Austria and Prussia in the late 18th century and culture was one way of preserving the Polish national spirit.
"Chopin left Poland without knowing that he would never come back. He was very nostalgic. He remembered his childhood sites, where he was born and where he went on holiday. You can hear all that in his music," said Strugala.
The Asian connection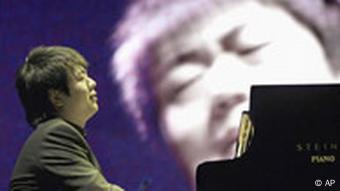 Lang Lang says Chopin's music works well with animation
A year-long season commemorating the 200th anniversary of Chopin's birth was officially launched earlier this month with a gala concert at the Warsaw Philharmonic featuring 27-year-old Chinese pianist Lang Lang. According to Polish musicologists, the choice of the artist was not accidental as Chopin is known to have the greatest following in Asia.
"The composer's nostalgia and the visual qualities of his music seem to appeal to Japanese and Chinese audiences," said Strugala. "They evoke images of one form of traditional Japanese paintings that shows the world in much the same gentle way."
A birthday mystery
Among the highlights of Chopin Year in Poland is a series of concerts between February 22 and March 1, the two possible dates of the composer's birth. Such world-famous pianists as Martha Argerich, Garrick Ohlsson and Krystian Zimerman are billed to appear.
"February used to be commonly accepted [as Chopin's birth month], but musicologists recently discovered that in letters to his mother Chopin regularly mentioned March 1 as his birthday," explained Alicja Knast, curator of Warsaw's new Chopin museum says. "Chopin was a genius, so why shouldn't he have two birthdays? Besides, each composer should have some mystery about them."
Until recently visitors to Warsaw had little chance to find out more about the composer, as the city's Chopin museum was cramped in the space of just three tiny rooms. But on March 1 a new multimedia museum is to be inaugurated.
Multimedia museum
The new exhibition incorporates both visual and audio content, including soundscapes and an audio narrative based on Chopin letters.
"We want visitors to experience Chopin by bridging the gap between the past and the present," said Knast. "One of the features will be an outside mural, a street art activity, in which a huge space will be created where we want to support all sorts of creativity by young people."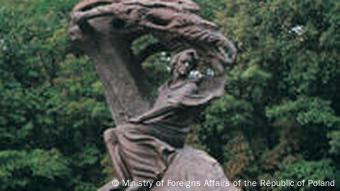 The Chopin monument in Warsaw's Lazienki Park
When they're given the chance to be creative, young people are more likely to participate, added the curator.
Chopin fans can look forward to two other highlights later in the year. A festival called "Chopin and his Europe" will be held in August and the three-week International Piano Chopin Competition - where 100 pianists perform only works by Chopin - takes place in October.
Chopin in 3D
In one of Poland's leading film studios in the city of Lodz, an international crew is busy shooting a 3D co-production set to Chopin's music. "The Flying Machine" is being made by the UK's BreahThru Films, the makers of Academy Award-winning "Peter and the Wolf," and Poland's Se-Ma-For studio.
The music in the film is played by Lang Lang, who finds the combination of a cartoon with Chopin's piano harmonies very appropriate.
"I started watching 'Tom and Jerry' to get into classical music and to get into piano playing," he said, tongue-in-cheek. "Cartoon, animation and music is always connected so closely, you cannot find a better context to put music and animation together.
"It's been an enormous pleasure for me to share Chopin's music with everyone in the world through making this movie," added the star pianist.
Author: Rafal Kiepuszewski
Editor: Kate Bowen