The suspects face criminal charges in response to a violent attack on parliamentarians inside the legislative chamber in the Former Yugoslav Republic of Macedonia last Thursday - at least six of those charged have been arrested.
Supporters of the nationalist VMRO-DPMNE party broke into the parliament's main chamber and assaulted MPs from the Social Democratic Party (SDSM) and their ethnic Albanian allies.
More than 100 people were injured in the melee, many of them protesters. But police officers and about a dozen lawmakers - including SDSM leader Zoran Zaev - were also hurt.
The group was charged for "participation in a mob and preventing officials from performing their duties," according to police.
The mob attack was led by masked men, some of whom were armed, prompting speculation that at least a few were members of the intelligence services.
Months of political turmoil erupted into violence over a disagreement about a new speaker of the parliament.
The SDSM vowed Sunday to push ahead with forming a new government with ethnic-Albanian partners, despite opposition from nationalists to sharing power with the Albanians, an ethnic minority in Macedonia.
The nationalists said giving power to the Albanians would threaten the country's national unity.
The SDSM accused the rival conservative VMRO-DPMNE party of inciting the violence and playing the ethnic card in a bid to cling to power at a time when they are facing grave corruption allegations from the party's decade-long rule.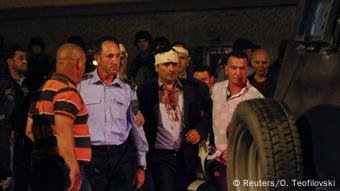 Zaev emerges from parliament bloodied but unbowed
Two-year-old political fight
A statement by the SDSM said the election of a new speaker, ethnic-Albanian Talat Xhaferi, had been lawfully carried out and that a new government would be voted on by MPs "in the forthcoming period."
Both the European Union and Washington have supported Xhaferi's election. US Deputy Assistant Secretary of State Hoyt Brian Yee flew into Skopje on Sunday for talks aimed at trying to end the turmoil.
The violence was the latest twist in a two-year-old political struggle in the small Balkan country of 2 million people.
An early election in December was intended to end the tumult but has only deepened it, with far-right nationalists protesting in the streets every night.
The VMRO-DPMNE party, led by former premier Nikola Gruevski, narrowly won the most seats but failed to form a coalition with Albanian kingmakers. The ethnic minority makes up around a quarter of the country'spopulation.
Although the SDSM's Zaev then struck an agreement to govern with Albanian parties, President Gjorge Ivanov - an ally of Gruevski - denied them a mandate to rule.
President Ivanov's refusal to grant Zaev a mandate has met with EU and US disapproval.
The crisis began in 2015 when Zaev released tapes that appeared to show mass surveillance by the government under Gruevski, as well as corruption at the highest levels of government.
bik/sms (AP, dpa, AFP)