Poland has been home to 100,000 NGOs since the end of communist rule in 1989. Today these organizations run 8 percent of the country's schools, 85 percent of homeless shelters and almost all athletic associations. Many serve as government watchdogs, demanding transparency and accountability from public authorities. Now the government and state media are pushing back.
National Center for Civil Society
Polish NGOs receive roughly 1 billion euros ($1 billion) in public funding every year, distributed via ministries and local administrations. The government led by the conservative Law and Justice Party (PiS) wants to centralize funding through a National Center for Civil Society, subject directly to Prime Minister Beata Szydlo.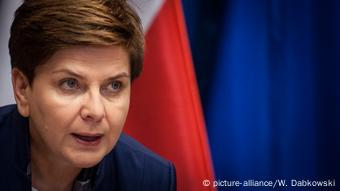 Poland's Prime Minister Beata Szydlo wants more control over NGOs
Szydlo wants to see "more transparency," telling the government-friendly weekly magazine, "Solidarnosc" (Solidarity), the "government is accused of not building civil society." She would spend billions of zloty, the Polish currency, annually for this purpose. The prime minister finds it regrettable that money often flows to foundations of "politicians from previous governments." Some 70 percent of funding goes to paying NGO employee salaries, according to the interior minister, though no concrete examples of abuse of public money were offered.
State media against NGOs
Government-friendly media have promoted the government's charges against NGOs. State broadcaster TVP recently focused on an NGO the prime minister would characterize as close to "politicians from previous governments." The organization, Mam Prawo Wiedziec (I have the right to know), was founded 11 years ago with the mission of making a more transparent civil society, with particular focus on Polish politics. Director Roza Rzeplinska is the daughter of Andrzej Rzeplinski, the chief judge of Poland's Constitutional Tribunal and one of the government's loudest critics in the ongoing constitutional crisis that has made the Tribunal a target of the right-wing government. The report also cited Zofia Komorowska, daughter of former President Bronislaw Komorowski, who is heavily involved in Poland's NGO scene. She has been presented as a problematic personality.
Examples of concrete accusations are difficult to find, and the controversial television report was no different. Instead, a graphic was displayed showing the purported links between NGO leaders and former government officials, the unspoken message being that the NGO world is a closed-door club taking in a lot of public money.
Minister of culture causes a stir
Thousands of NGO activists have protested the state media defamation campaign. Among them was an unexpected ally: the minister of culture, responsible for state media. Piotr Glinski, who is also deputy prime minister, backed the NGOs and apologized to the two women denounced on "his" television. His controversial comments have been the source of headlines in Poland for days.
As a well-known sociology professor with years of political experience working with government, Glinski is a proven expert on the NGO scene, which adds weight to his words. He is one of the most loyal foot soldiers in the PiS, making his apology all the more surprising. State media hit back, investigating his wife's ties to NGOs and funding from her husband's ministry of culture. In response, Glinski denounced the reporting as an "unprofessional crusade" against NGOs, calling it a "classic example of manipulation and propaganda." State television called the ministry a "madhouse."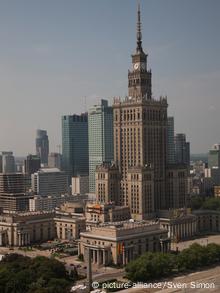 There are more than 100,000 NGOs in Poland - a few are politically active
NGOs feel under threat
The NGO activists do not view themselves as victims. The affair has provided Rzeplinska's NGO with more positive attention than ever before, she told DW. Overall, she still senses a threat, having filed three complaints of hate-motivated attacks since the television report. She also published her monthly salary of 900 euros in response to the claim that she has enriched herself on public money.
Rzeplinska is worried about public opinion turning against NGOs. "The objective of the campaign against NGOs is to make people uncertain - both activists and local officials who approve and oversee projects," she said.
The uncertainty is a danger for NGOs, said sociologist Jakub Wygnanski. "This sector survives on diversity and independence," he said.
A draft bill awaits a vote in parliament, and it is likely to be passed into law due to the PiS majority. This would bring NGOs further under government control as soon as early 2017.